FRESHLY WHIPPED @ ACHILLES RADIAL NZ PRESENTS: CODY'S D1NZ FINAL – TAUPO RACEWAY
Now I decided this round I would do something different. I wasn't going to actually shoot a lot, but what I was going to shoot had to be a 'keeper'. There was no deleting and no 2000 photos a day – I wanted to walk away from the weekend with 300ish photos. I'd rather also not sit at a computer for decades trying to sort through images either, so in this case I took a break from the past two rounds where I was shooting for magazines, and this time just had a bit of fun. It's quite nice to relax at a D1NZ round for a change – something I haven't done since I've gotten involved. A big thanks to Achilles Radial for this round.
\r\n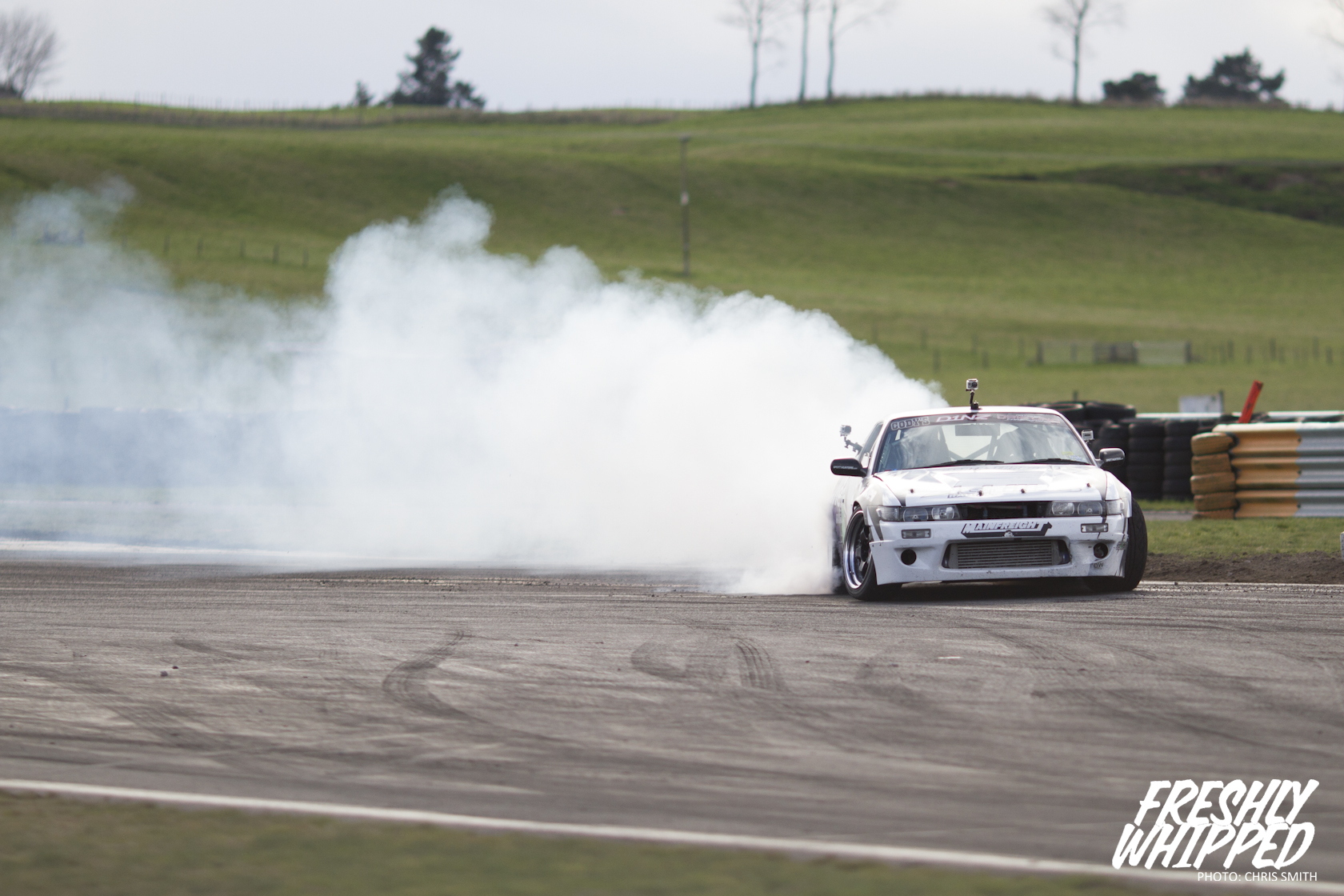 \r\n
This was always going to be one of those rounds I was just never too sure about. I'd only shot this section of Taupo once before and that was for Speedhunters.
\r\n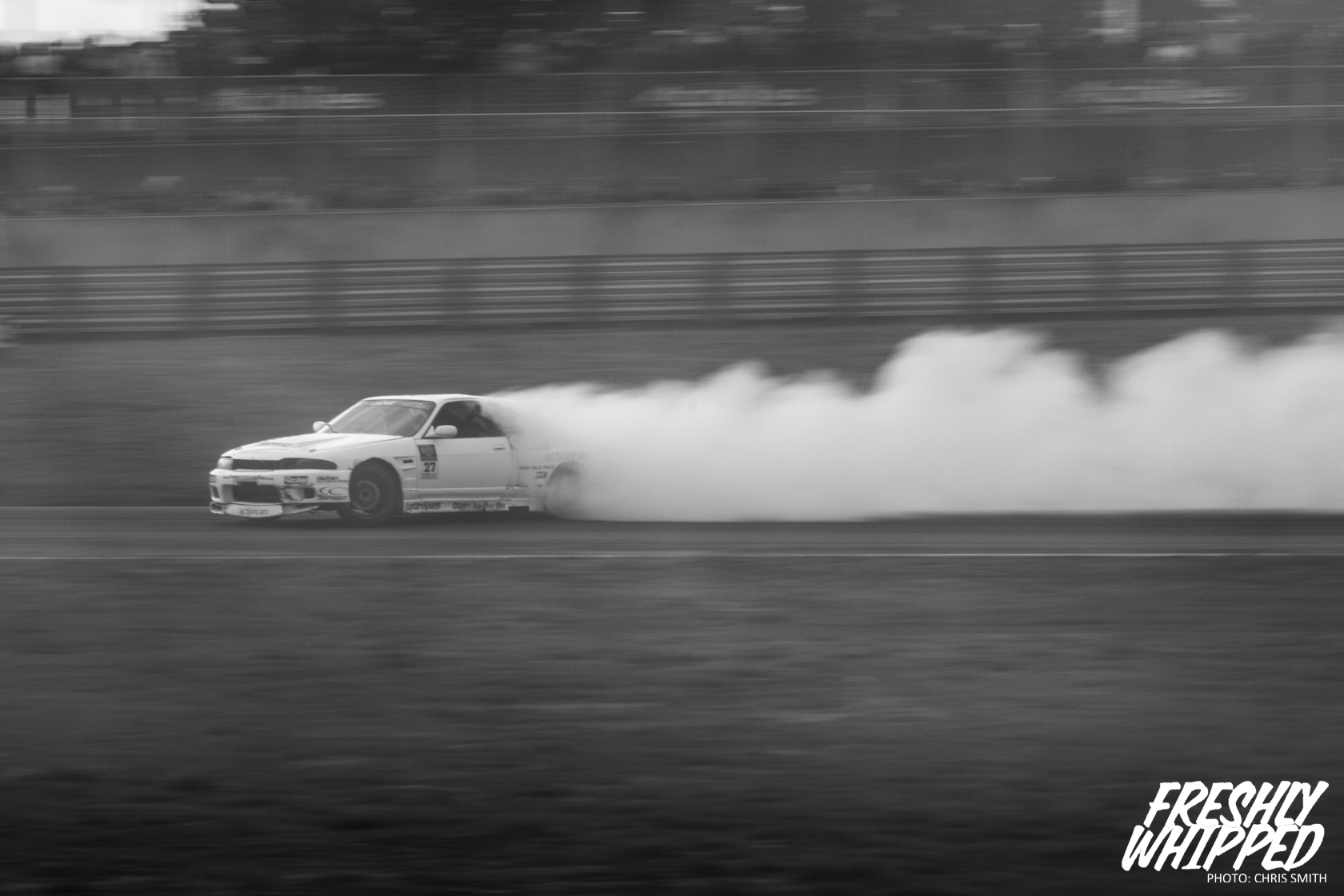 \r\n
I'm not one to complain about unusual circumstances for photography, in fact I quite like it. There's nothing like being at a fresh track with a fresh perspective on it all.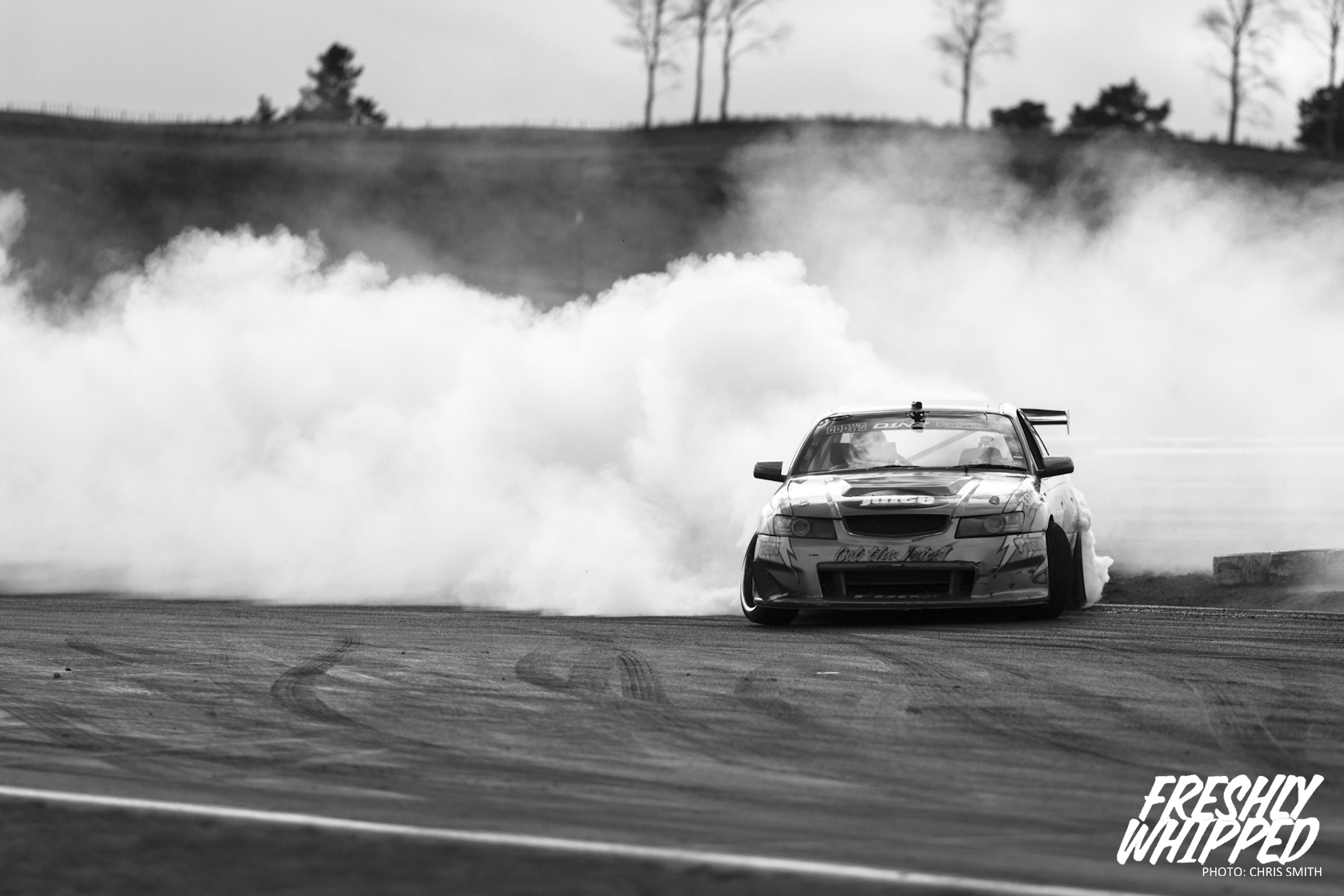 \r\n
I'm going to talk a little bit about the aspects of photography in this post, rather than just the drifting. I get asked quite a lot about my cameras and photography, so here goes. This shot was taken using a Canon 7D and a 135L F2 lens. I've got the lens wide open at F2 allowing it to gain maximum depth of field.
\r\n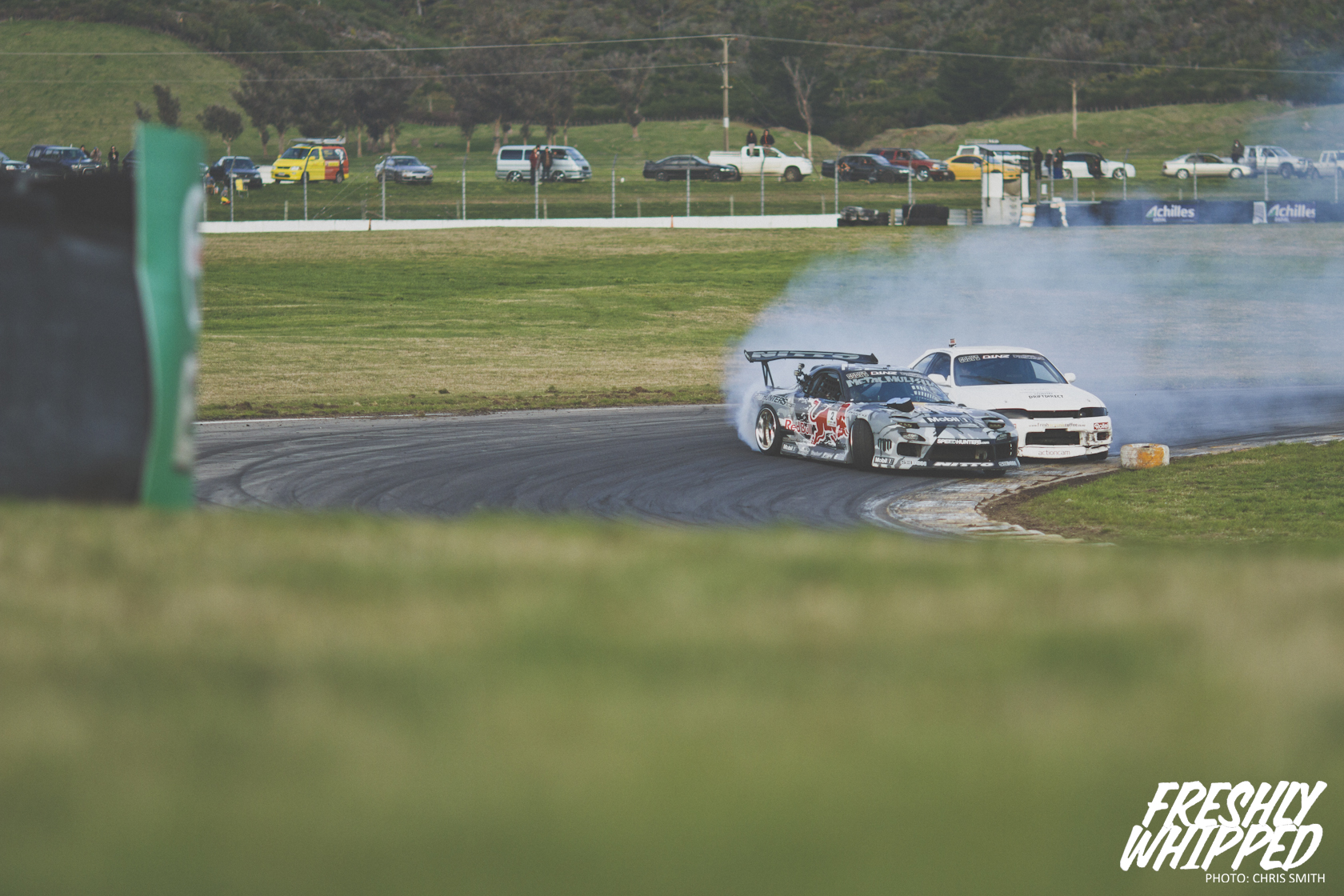 \r\n
One of the best battles of the weekend – Zak Pole vs. Mad Mike Whiddett.  This shot was one I felt really showcased how close the two were getting to each other. Normally people commend Mike on his chase efforts but in this case Zak was the one pulling through, allowing the match up to go for a rerun. This again was the efforts of my 135L lens.
\r\n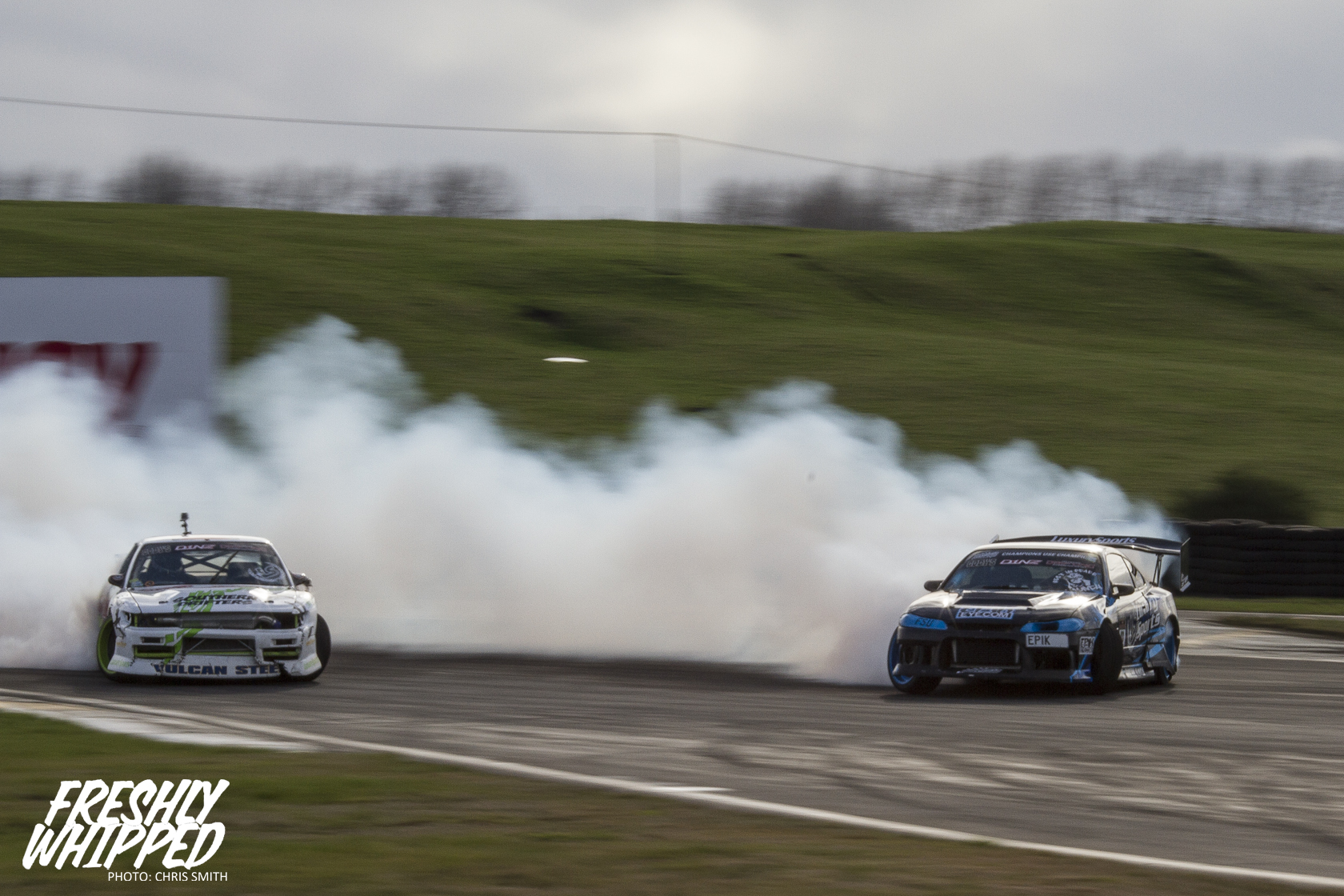 \r\n
Another great battle was put on by the South Island drifter Troy 'Family Guy' Forsythe and Nico Reid with both drivers putting on one hell of a show with plenty of smoke involved.
\r\n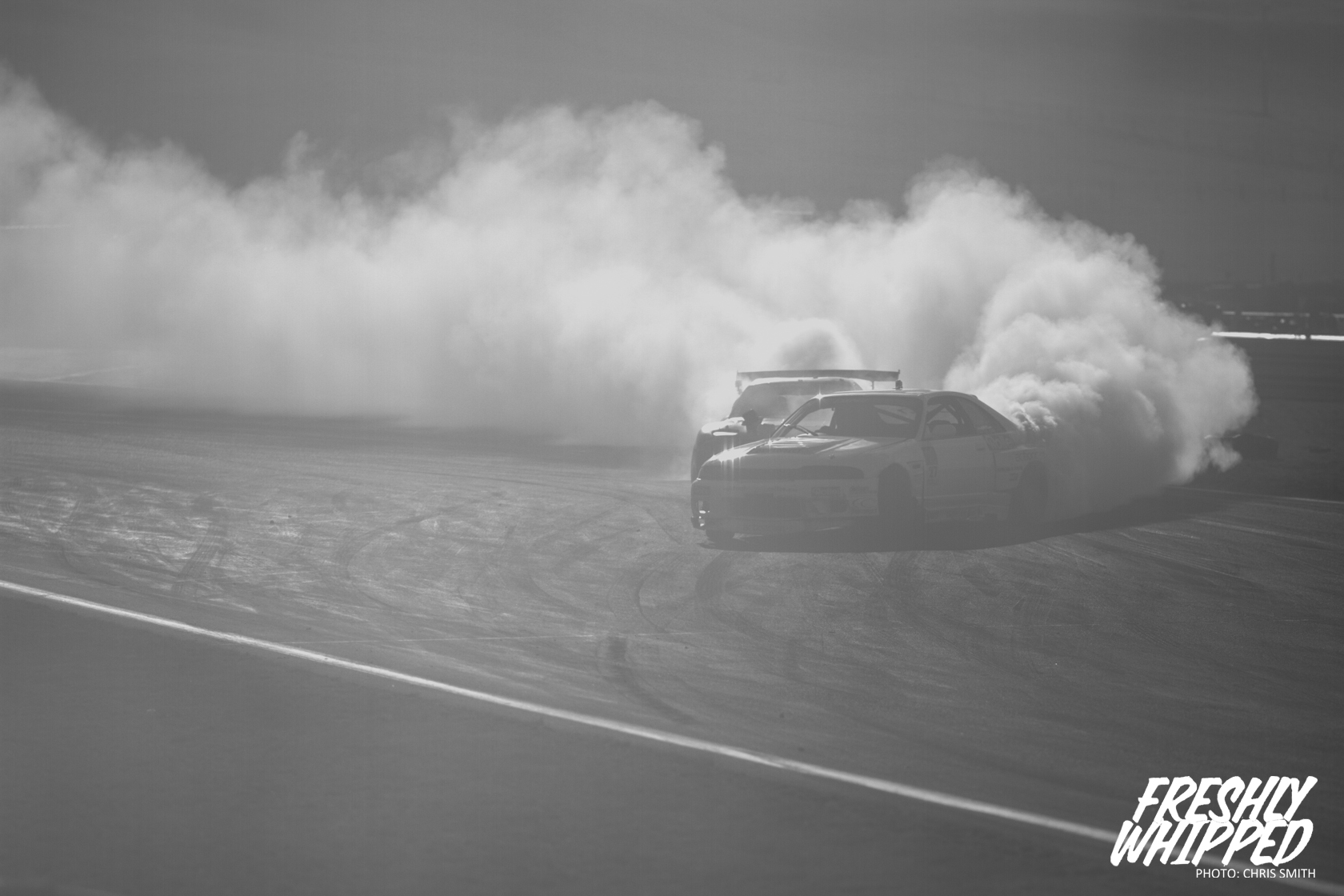 \r\n
In their rerun Zak Pole and Mad Mike Whiddett also put on ridiculous amounts of smoke with a somewhat look of amazement coming from the crowd. Zak went on to beat the Red Bull driver.
\r\n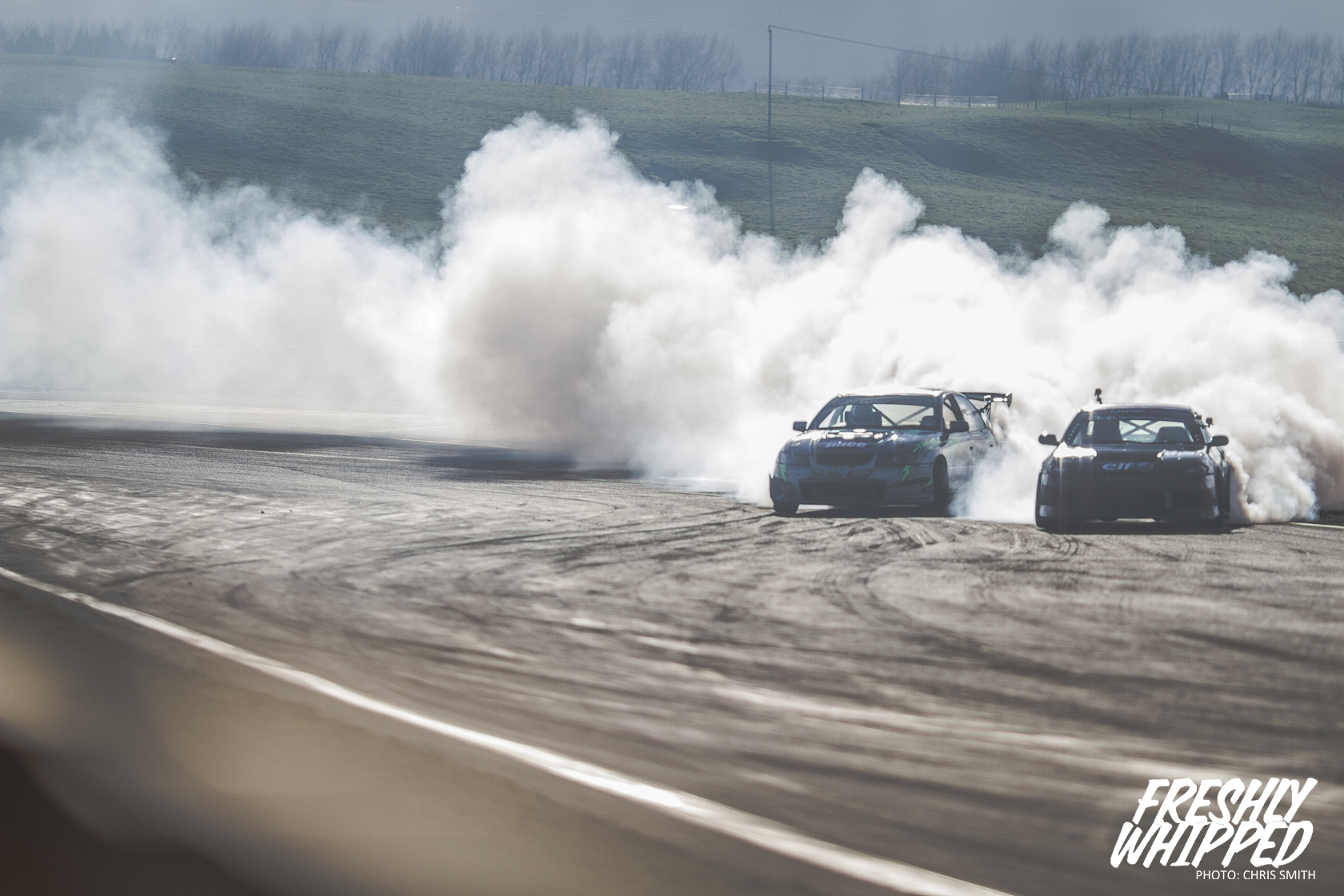 \r\n
In fact it seemed to be a regular thing from the big players on the final corner. The smoke intensity started to grow and burst from where it had originally started earlier in the morning.
\r\n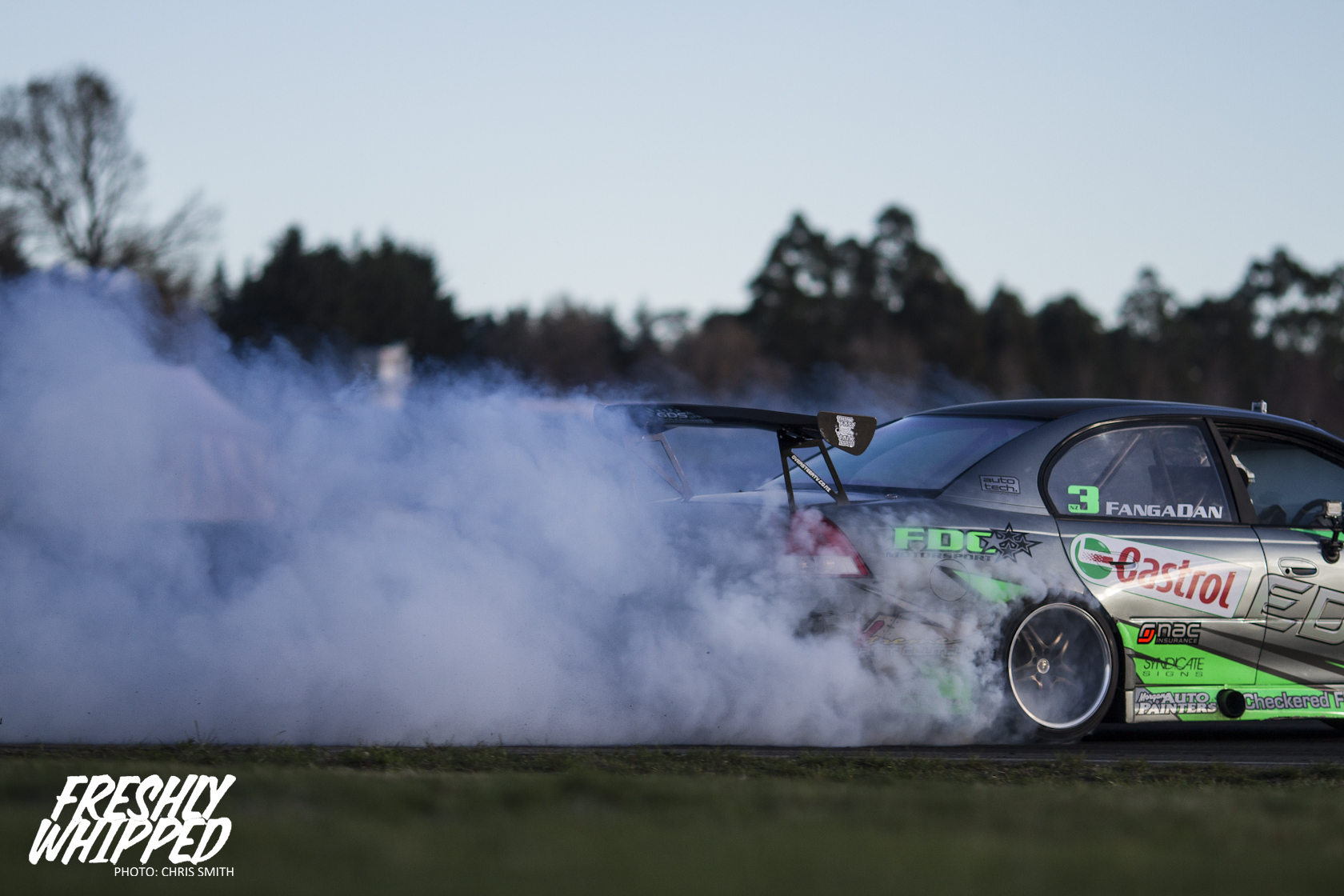 \r\n
Fanga Dan was on form with many picking him to be the victor at the end of the event, with plenty of points on the table and a strong chance of claiming the championship.
\r\n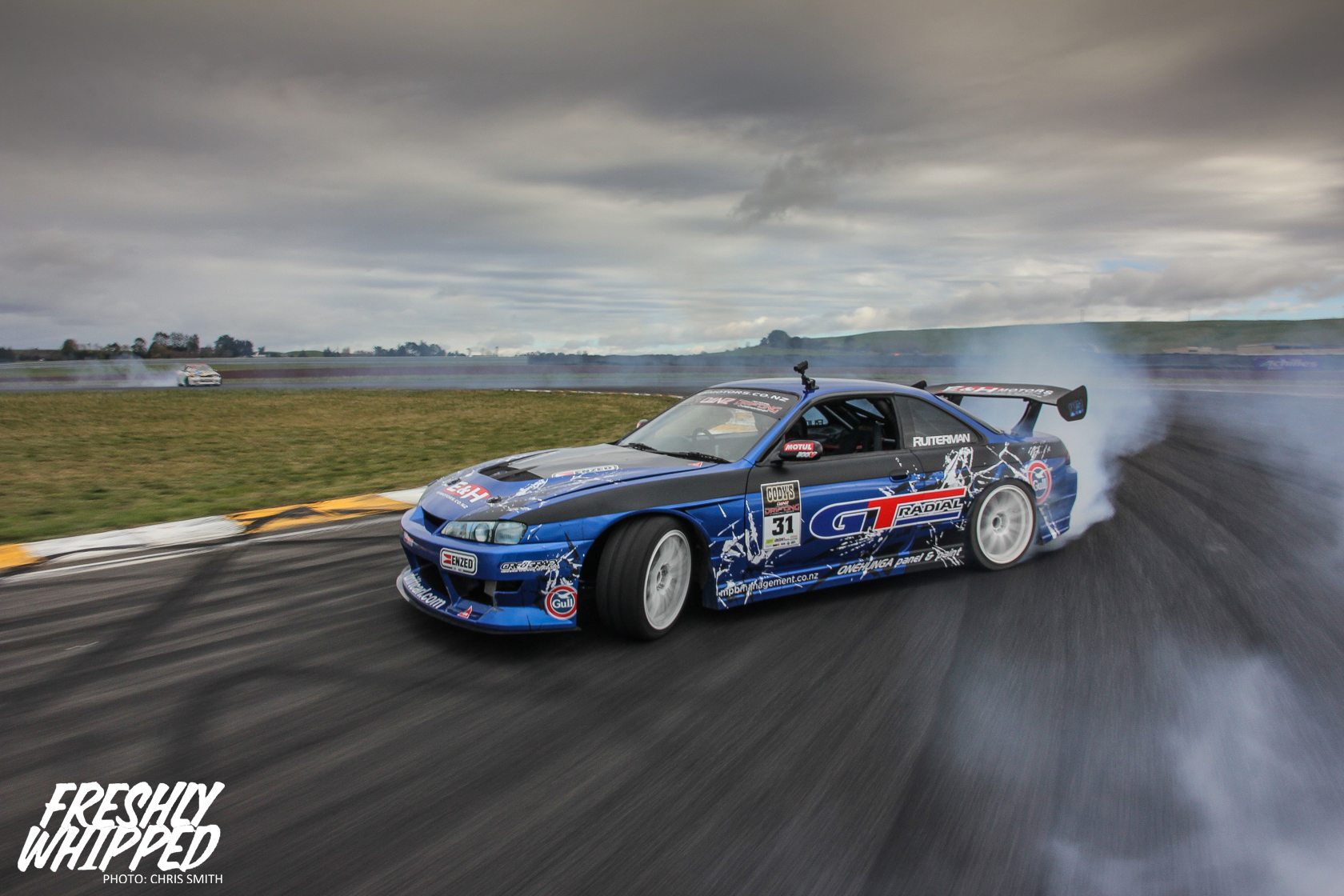 \r\n
Carl Ruiterman was out after I believe borrowing a few parts from his brother Hans' S14 to get his one back on track for Taupo. This shot was taken with a new Go Pro 74 that I'm testing. Not really but if you look around you might see what it came from.
\r\n
\r\n
Mike's RX7 was just looking plain sexy as hell as usual. Just such a photogenic car. He had just flown back over from Sweden after round 1 of Gatebil for the D1NZ weekend to hopefully take out the Cody's D1NZ championship.
\r\n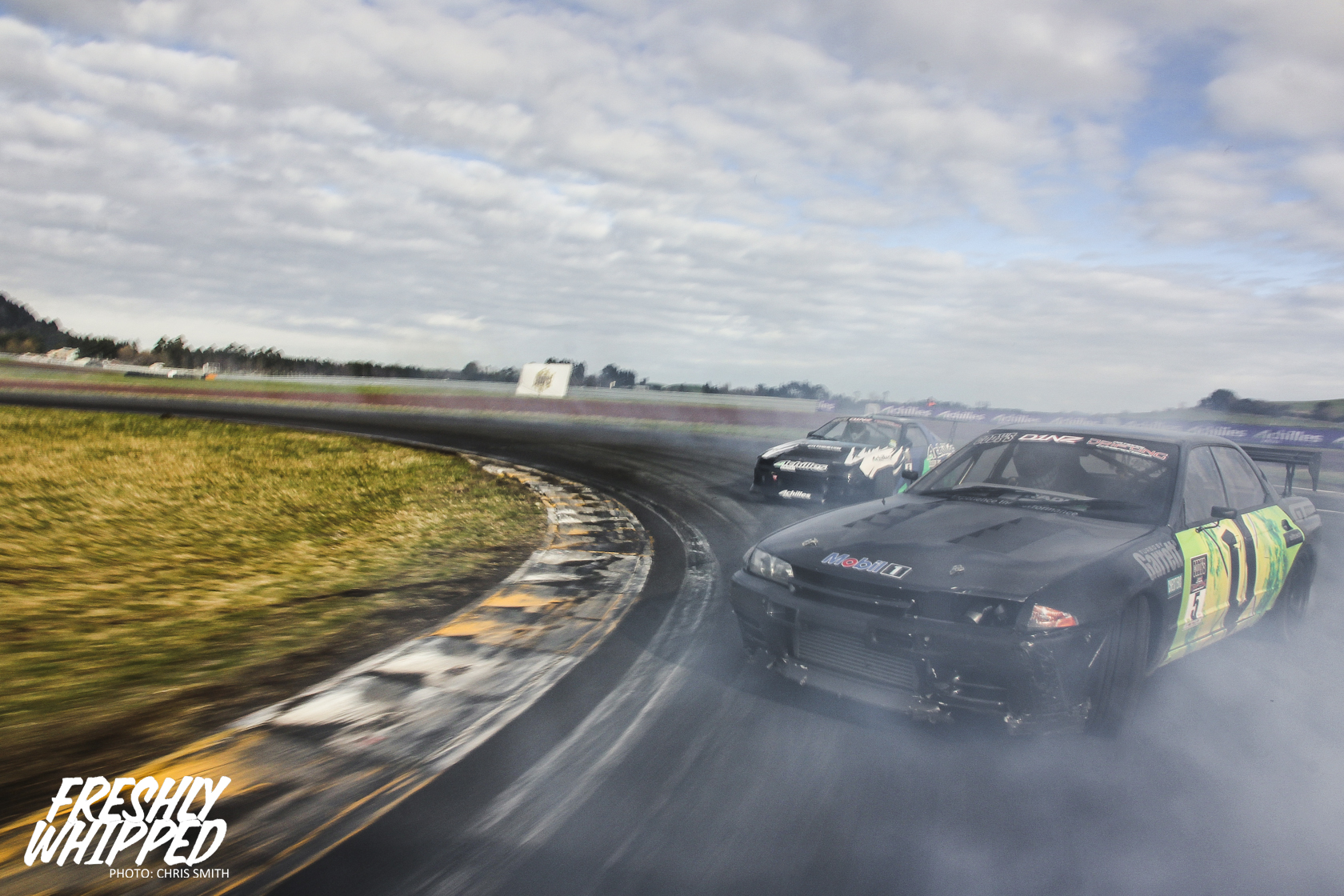 \r\n
Cole Armstrong borrowed another car this round as his R34 is still stuck in China from WDS. It's hoping to be on a plane out of Shanghai tonight. Fingers crossed he'll have his baby back soon! This R32 however was pretty impressive – running a XR6 Turbo setup. A combo I've been interested in for quite a while now..
\r\n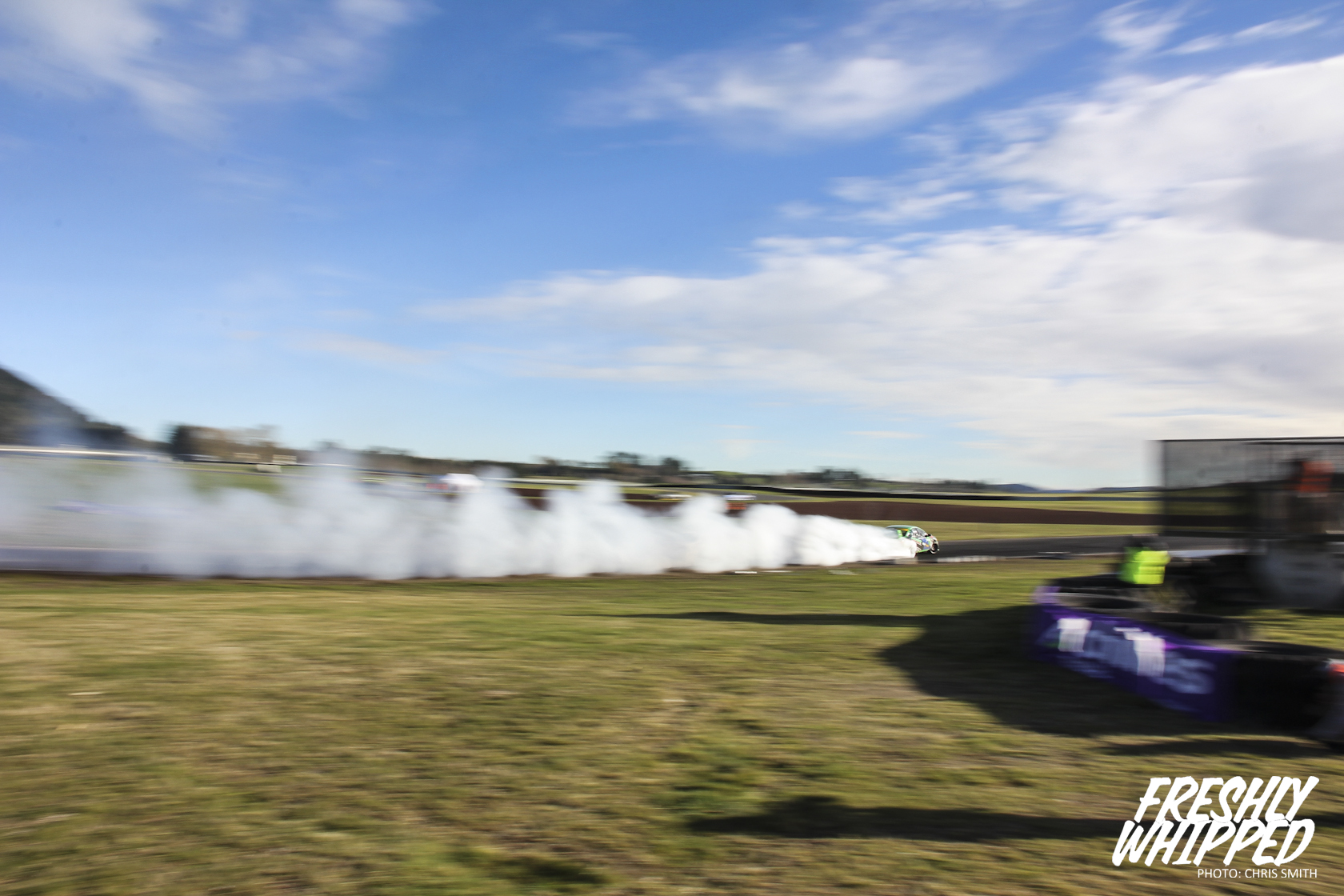 \r\n
Shane Allen and Shane Van Gisbergen created smoke from start to finish in the big V8 powered BA Falcon. Streams and streams of smoke. I believe this is shot at 1/20th for all you photojunkies.
\r\n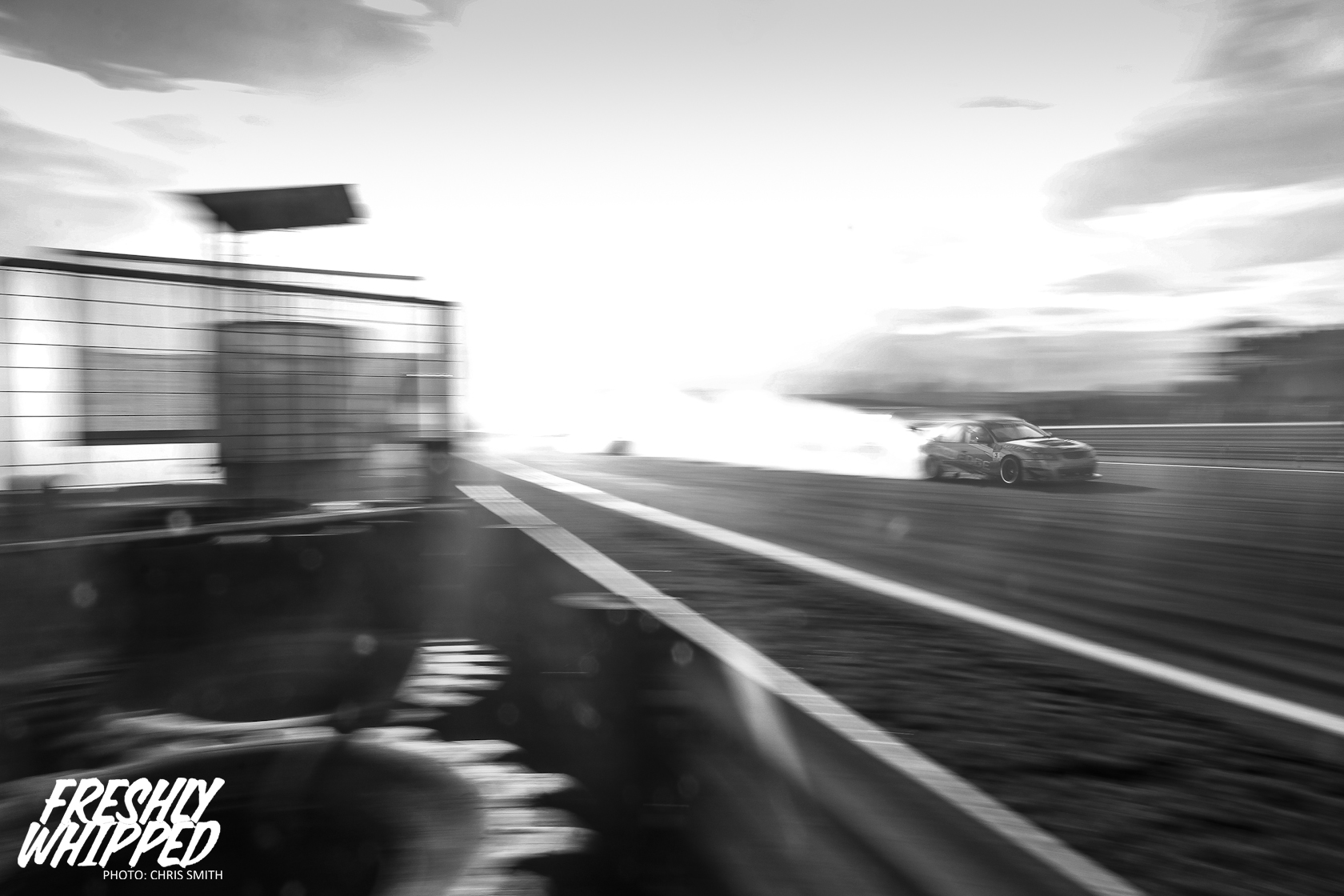 \r\n
Speaking of slow shutter speed photos, it often seemed like Fanga Dan had come out of a portal after exiting the final corner onto the front straight. With a manji or two inbetween, he was laying out some crazy speed in no time after finishing the corner.
\r\n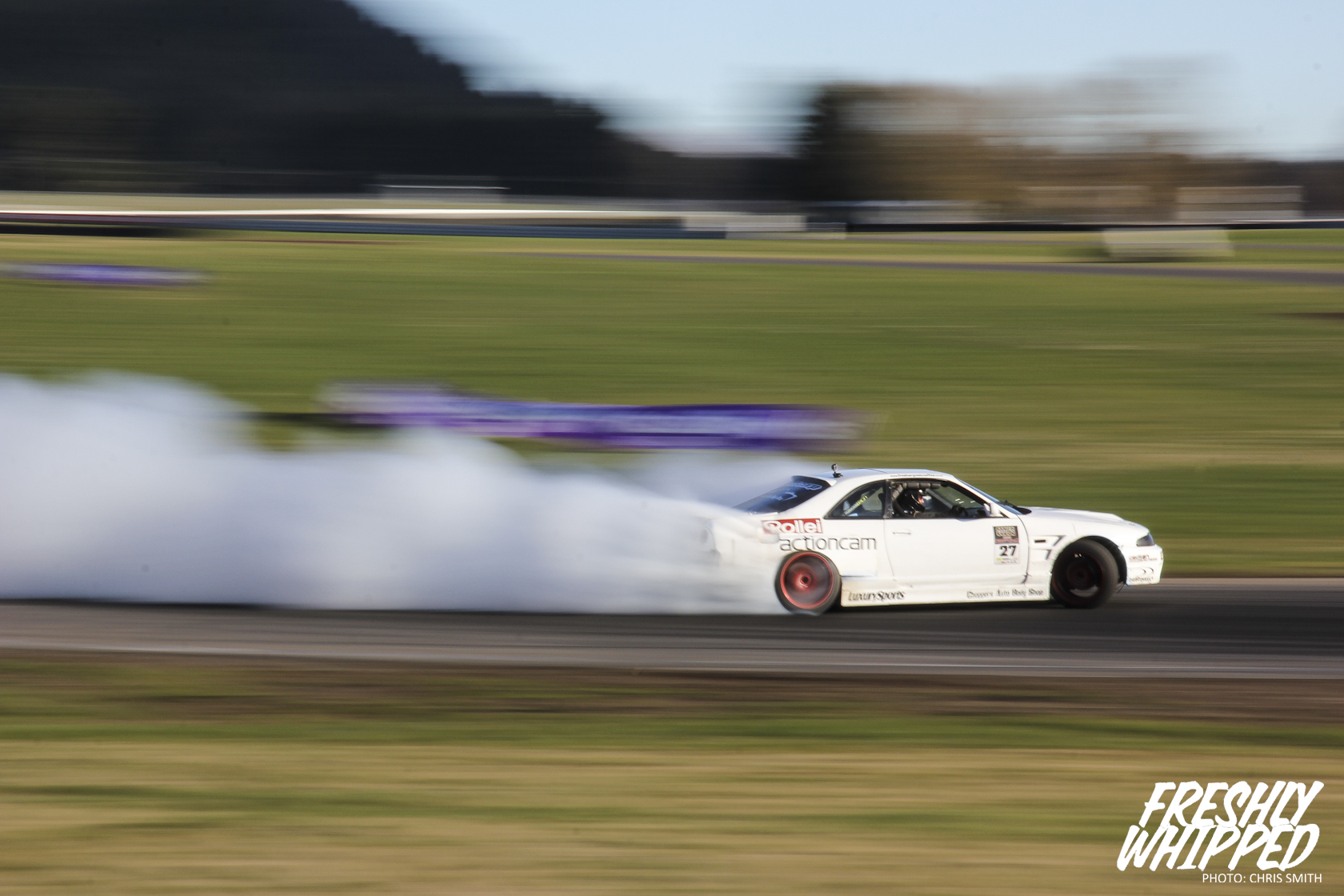 \r\n
Zak Pole was on form all day. If there's anyone who is the most improved or most 'out of nowhere' drift king it's him. That dude came from doing a few days out at Hampton and Taupo to totally slaying D1NZ.
\r\n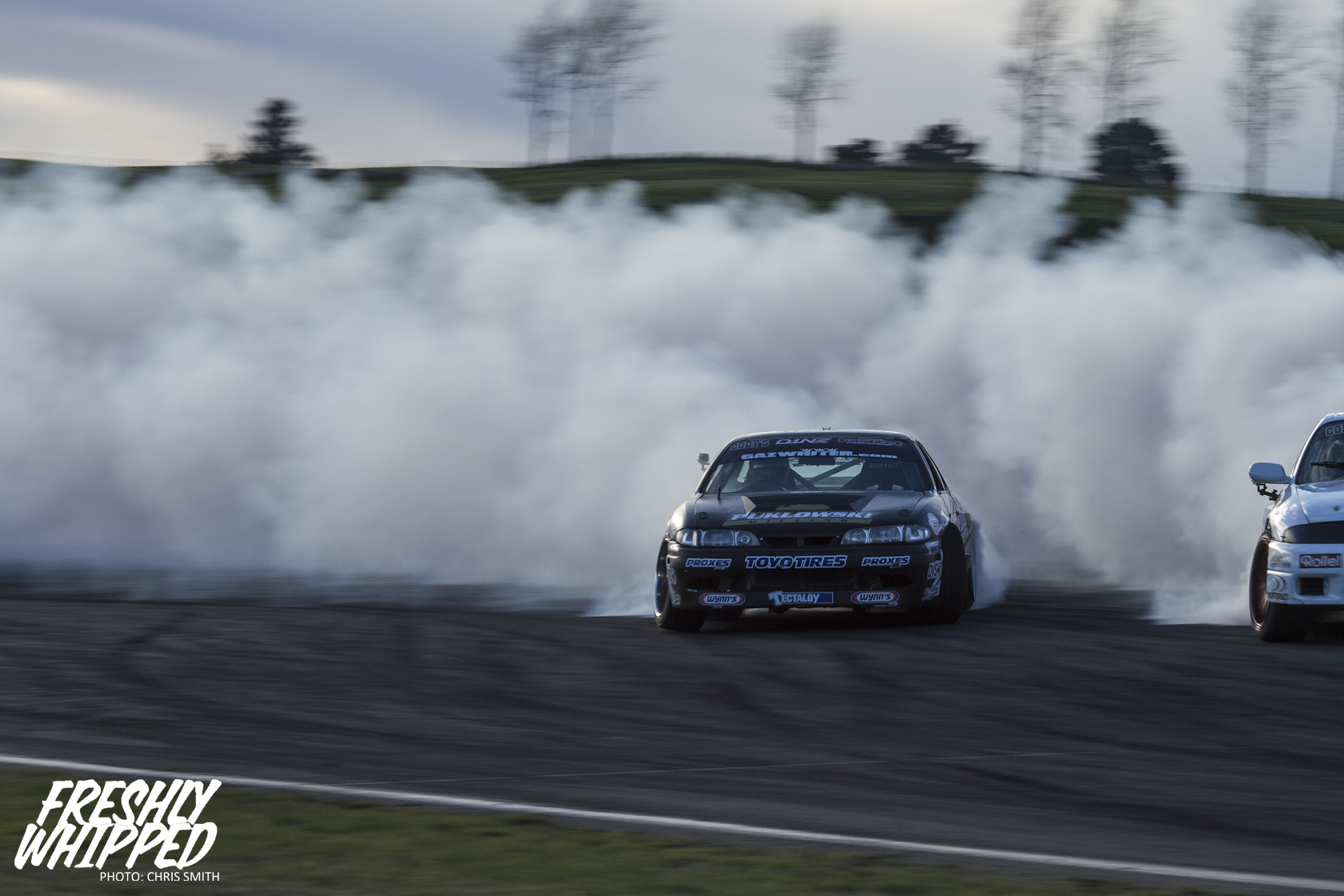 \r\n
His truly on-form moment came in the case of coming third against Gaz Whiter in the battle for 3rd/4th positions.
\r\n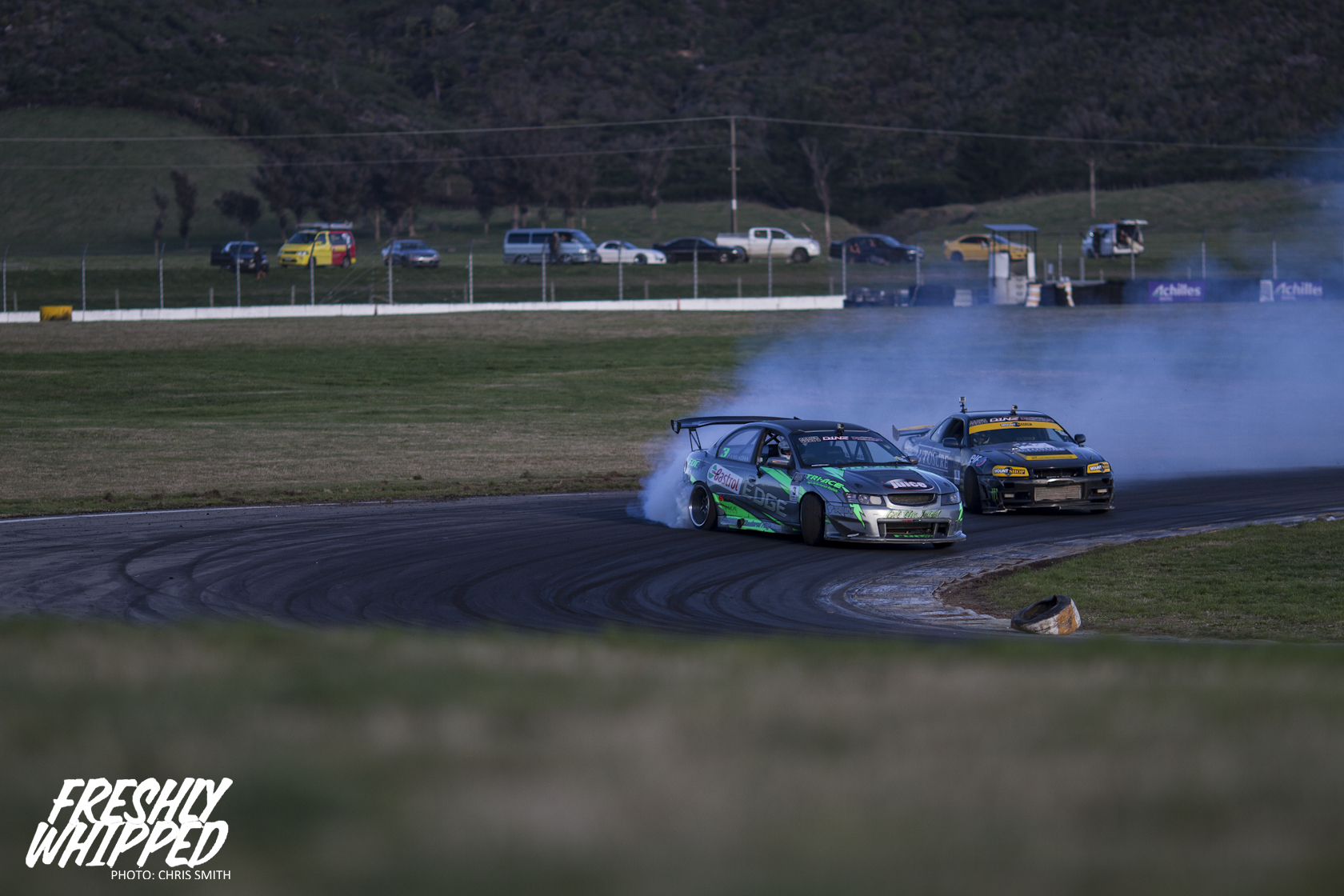 \r\n
We were then left with Fanga Dan and Curt Whittaker for the battle of 1st and 2nd.
\r\n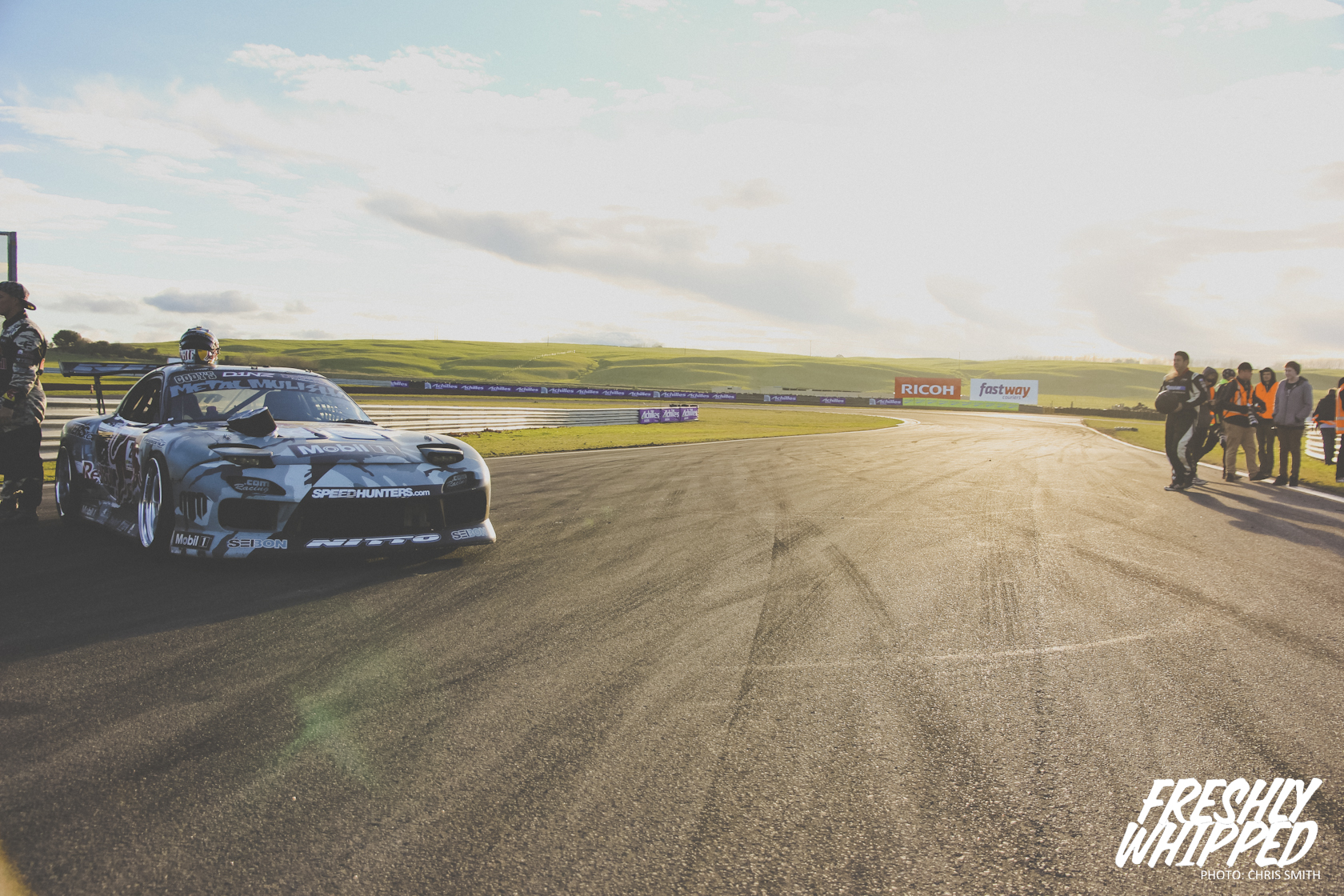 \r\n
Mike parked up just as the sun was starting to go down. No doubt waiting to collect and prize and slay some tyres.
\r\n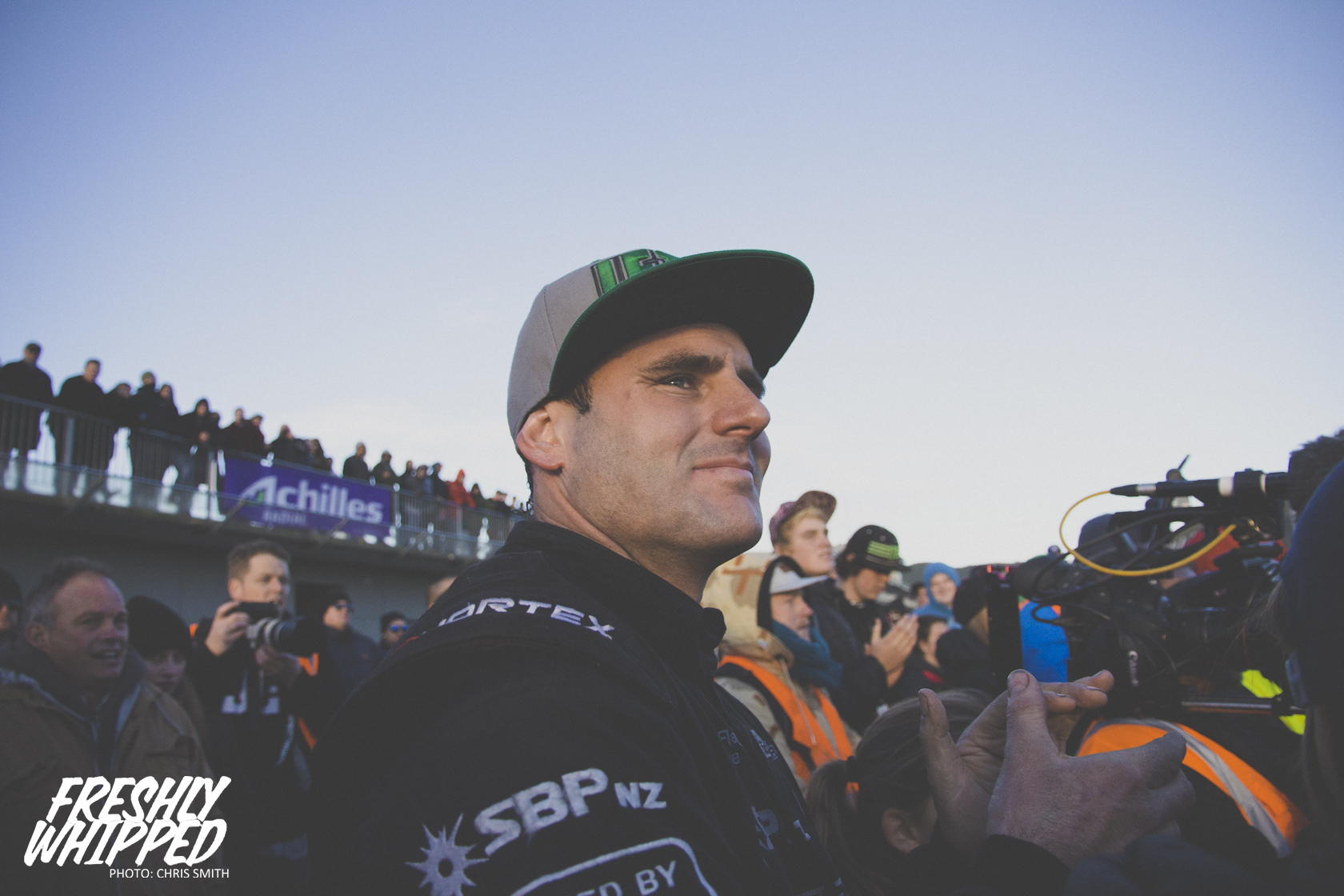 \r\n
 Thinking that you've won but have to wait to have confirmation seemed dear to Fanga. He was rather eager to get on the podium and spray the champagne.
\r\n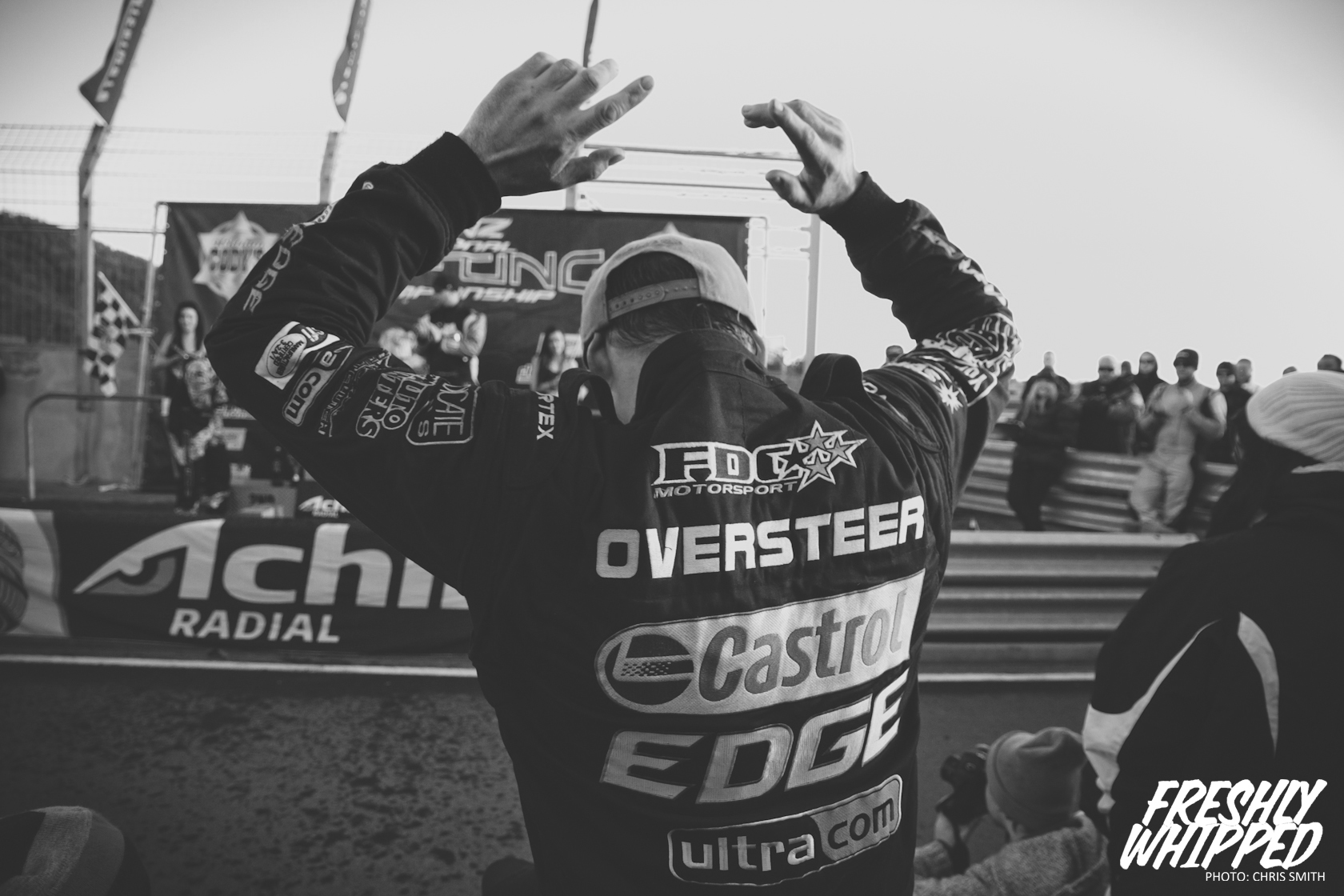 \r\n
Just as they announce the winner he scuffles through, throws his hands up as the new Drift King of NZ for 2012/13 season.
\r\n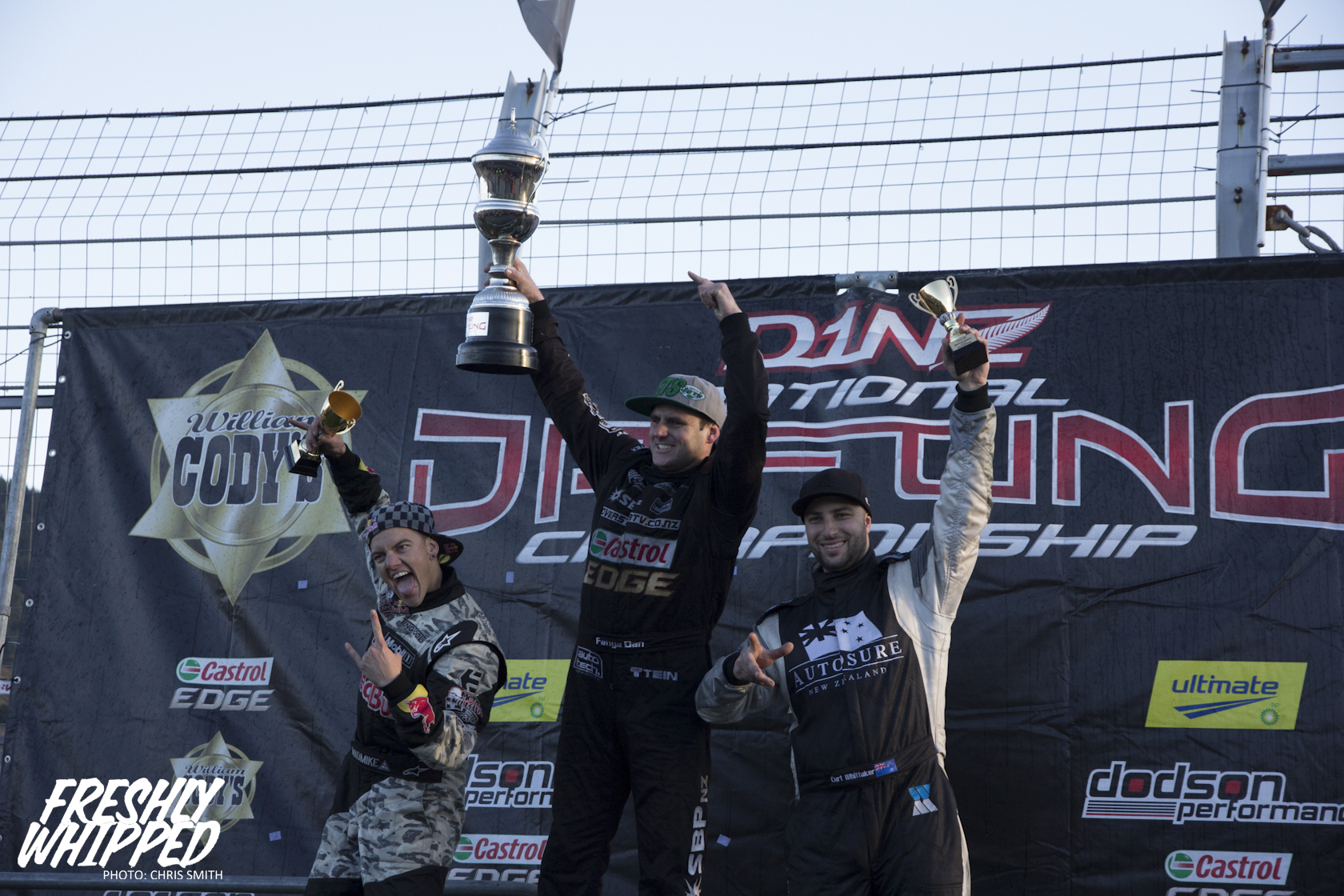 \r\n
Overall we saw Curt Whittaker take out 3rd, Mad Mike in 2nd and Fanga Dan in 1st. For the round we saw Fanga Dan in 1st, Curt Whittaker in 2nd and Zak Pole in 3rd.\r\nIn Pro-Am we had Darren Kelly in first, Jodie Verhulst in second and Matt Lauder in third overall.
\r\n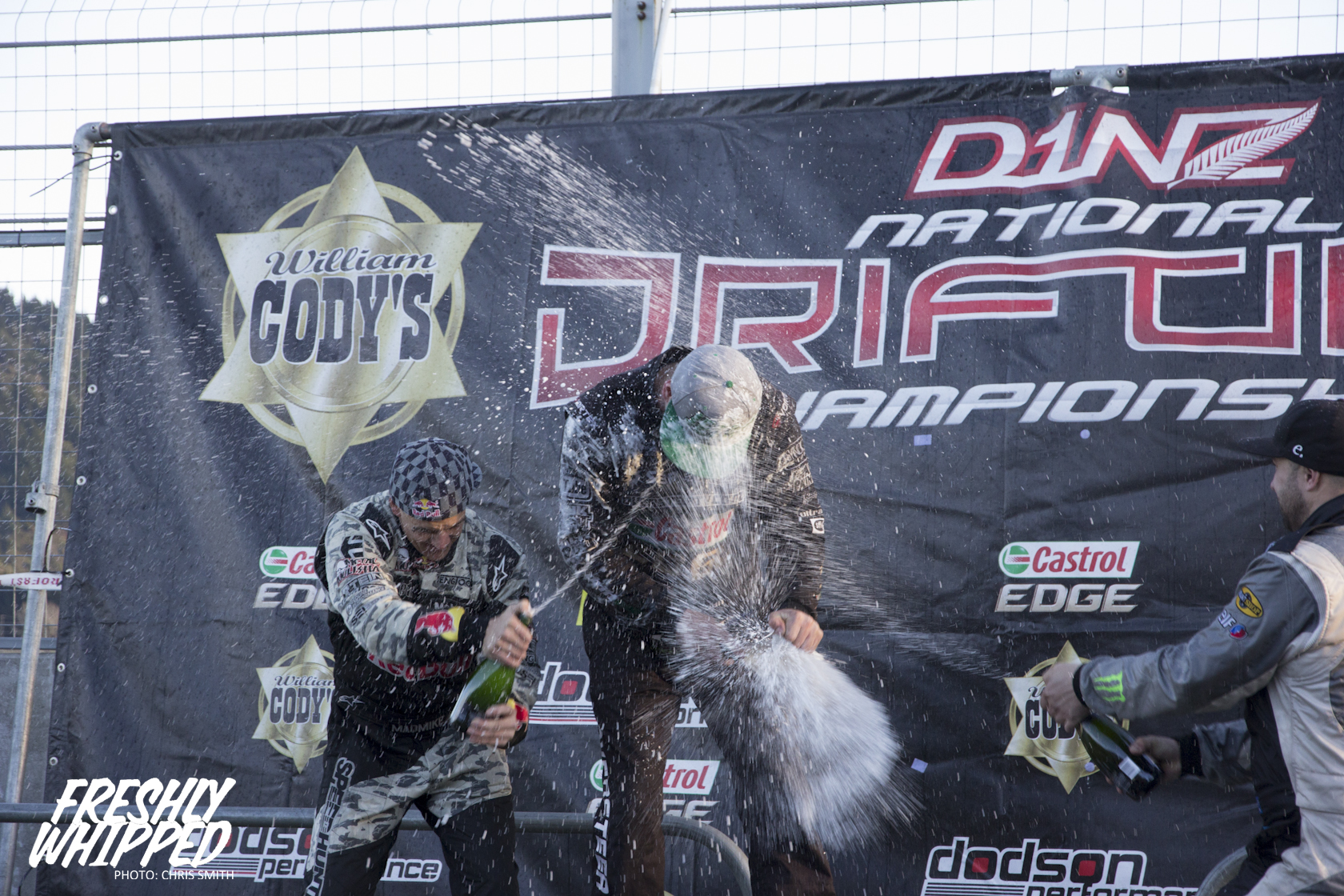 \r\n
As usual the wine flies open and the spraying begins. A pretty solid effort.
\r\n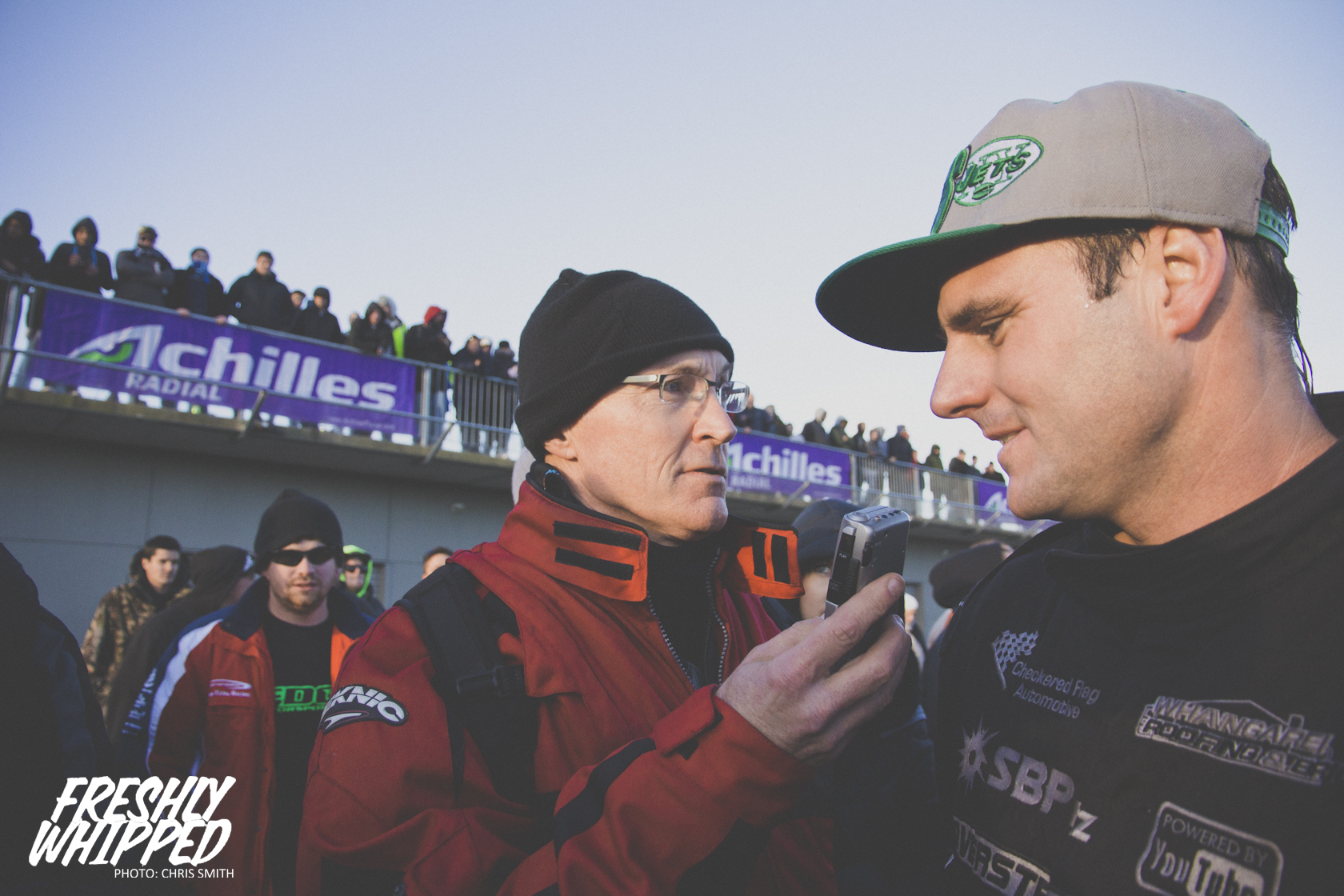 \r\n
This is that moment where Ross asks "How does it feel to win?". Fanga is  the first person to win D1NZ with a V8, first without a Nissan chassis and the only other person to win the championship more than once.
\r\n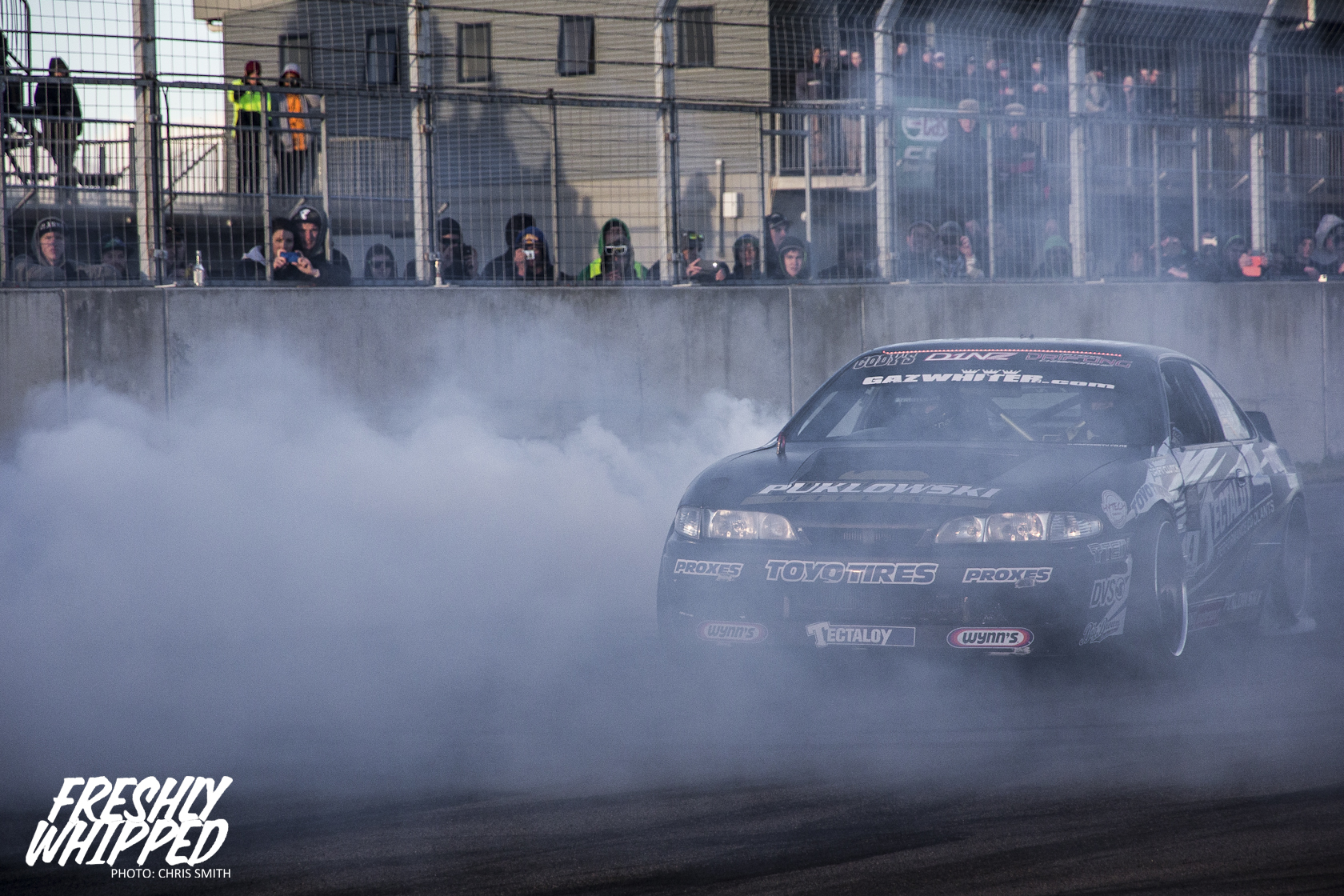 \r\n
Gaz Whiter lit up the bitumen with his V8 powered S14, allowing for plenty of smoke..
\r\n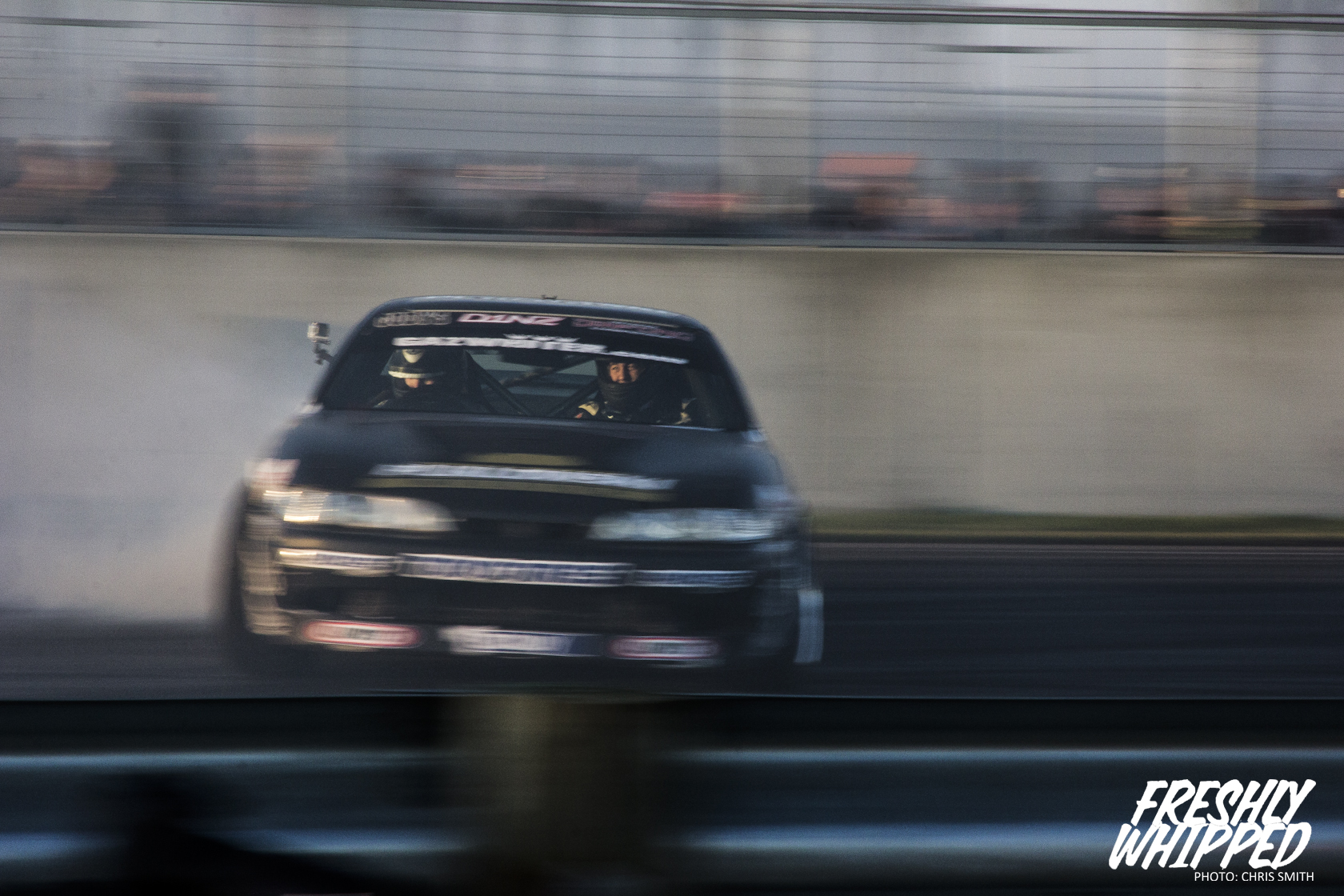 \r\n
 And an ecstatic look from the passenger.
\r\n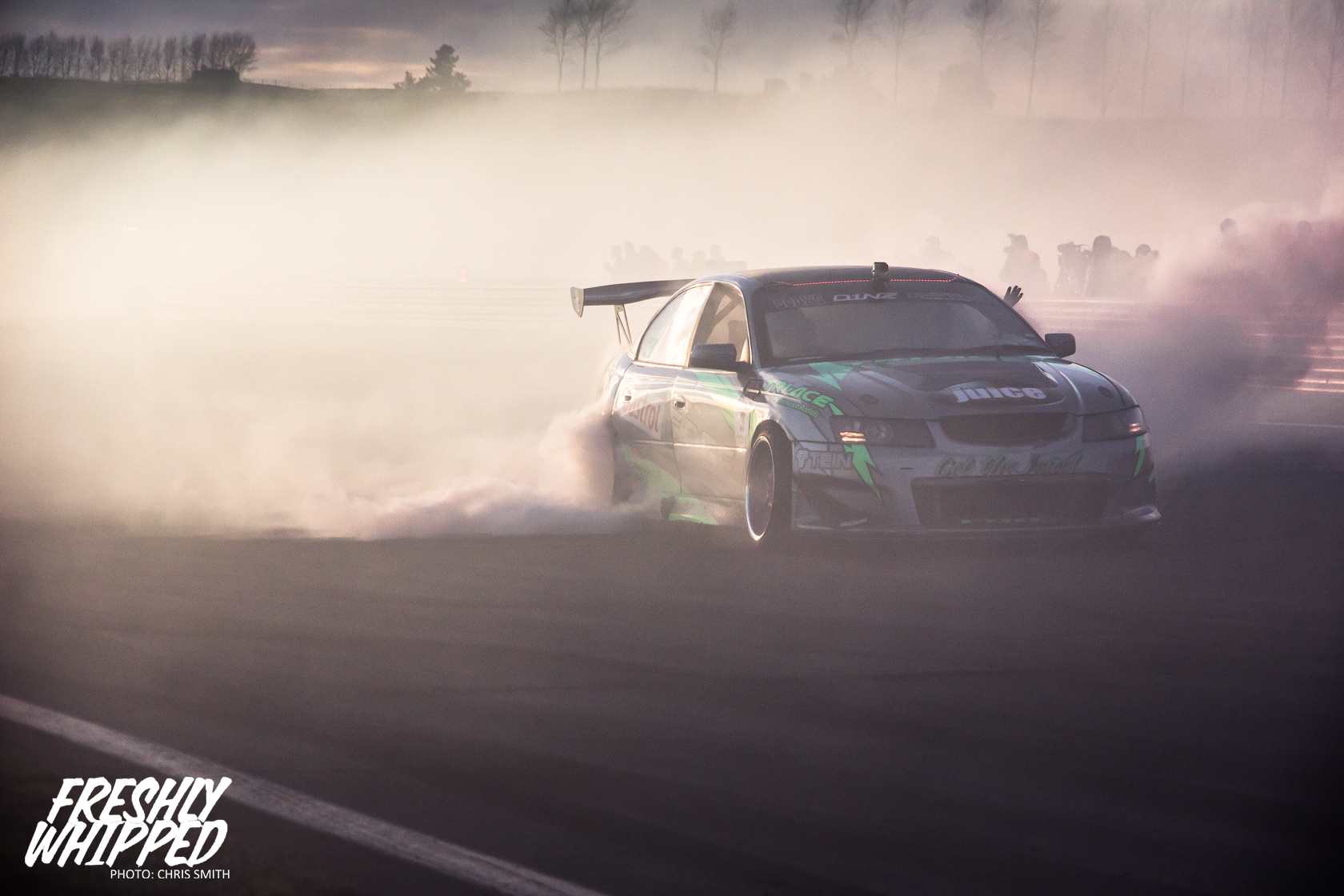 \r\n
That was until the boss came out and put out the rolling static burnout to end all. Smoking out the competition and turning the area into a house fire scene. By this point we may as well be running a burnout competition.
\r\n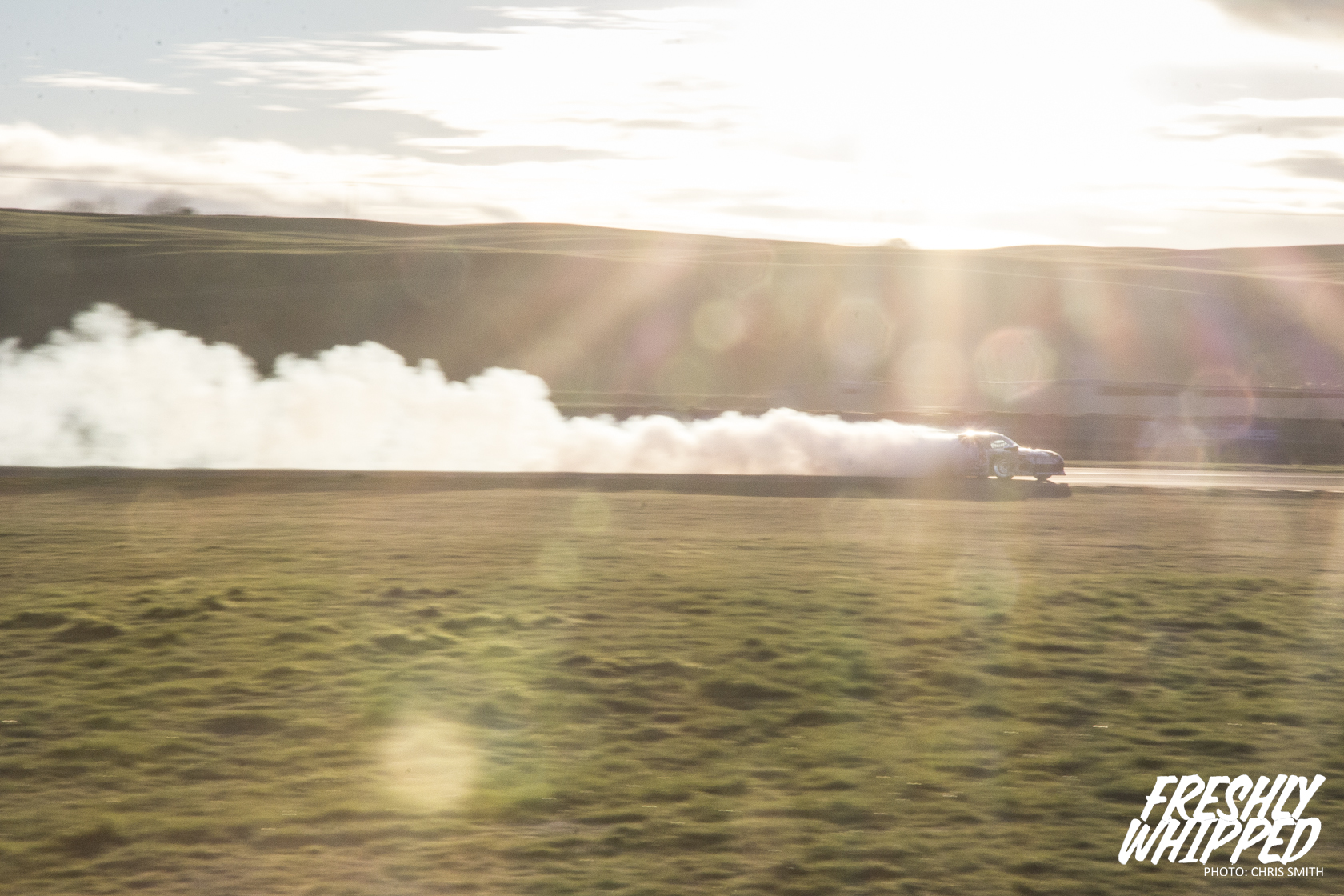 \r\n
Mike chose to lay down a few laps around the track, just as the sun was setting behind him. Quite picturesque.
\r\n
\r\n
 Kenny from Oversteer started to interview Fanga while the trophy was on display from Achilles Radial NZ. You can still see the smoke put out fading across the track.
\r\n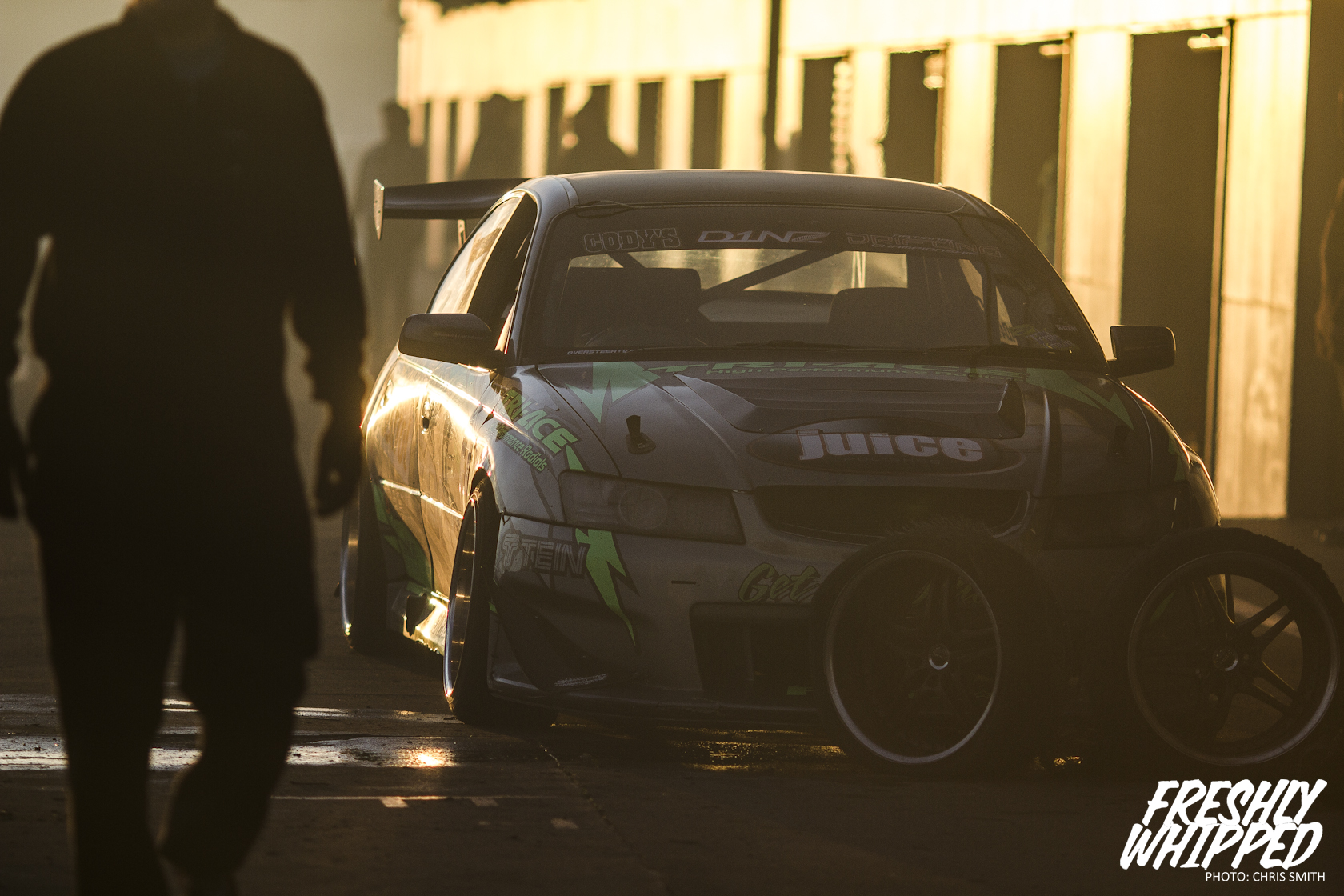 \r\n
That's another year over and time to turn the page. Can't wait to see what next year brings us. New cars? New drivers? Joe Kukutai for president? Pukekohe's round actually happening? C's Garage team?\r\nUntil then, I'll keep you up to date as much as possible in the off season with a few of the drivers.
\r\n
Will have some more coverage in the form of in car/on car video.
\r\nOnce again a big thanks to Achilles Radial NZ for this round.\r\n
–Chris