FRESHLY WHIPPED @ DRIFT SOUTH ROUND 3 – ANDREW BURNS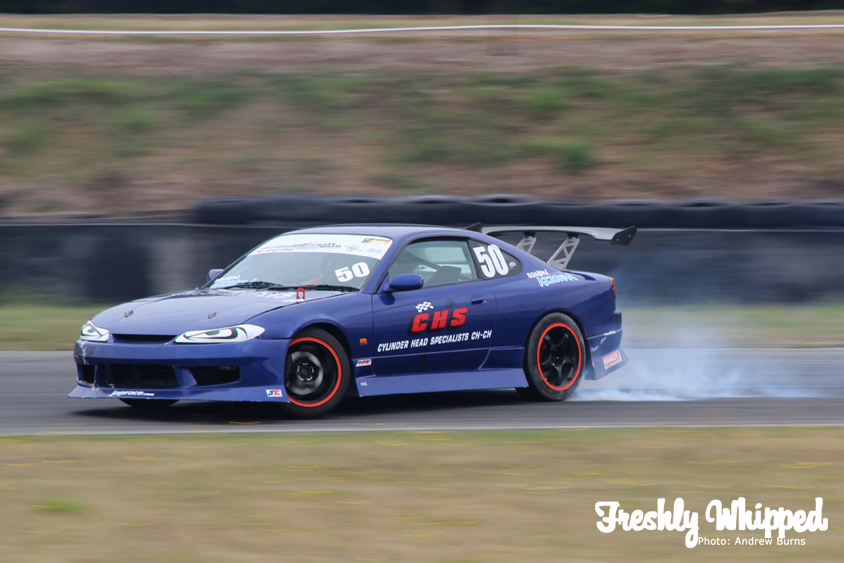 Hey guys, my name is Andrew Burns. I reside from the sun drenched city of Nelson. I'm a "motorsport  enthusiast / car nut", and enjoy anything with a motor and four wheels but drifting, Nissan's and photography are what I enjoy most. Enough about me on the drifting.
Drift South is New Zealand's South Island drifting league.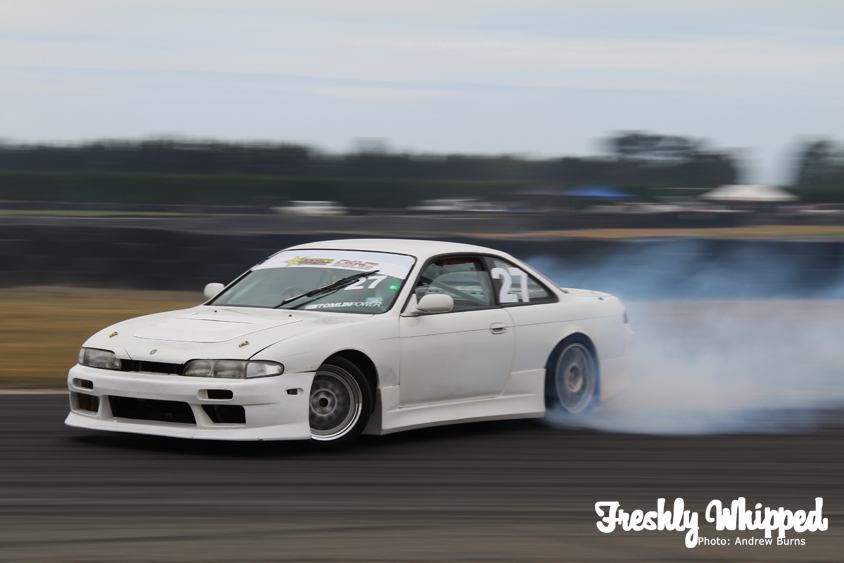 We pick up the Drift South series at round 3 being held at Levels Raceway in Timaru.
Johnny Latham's RX7 really mixes it up. Not only is it the only batty in the series but also the only vehicle powered by a V8.
Running the car on ethanol for the first time this season, Oliver Biggs in his S14 was throwing some mad angle through the big sweeper.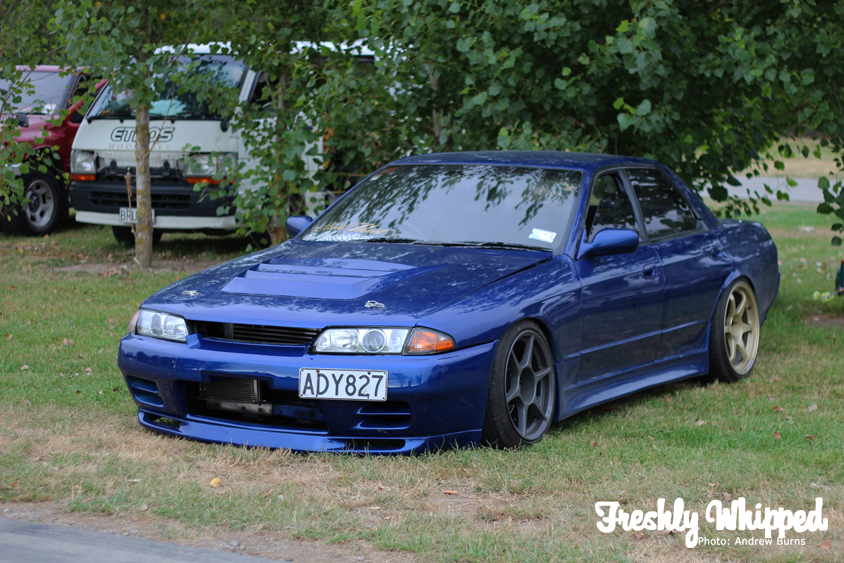 The car parks at events like this always have some pretty impressive rides in them. Love the colour of this four door R32.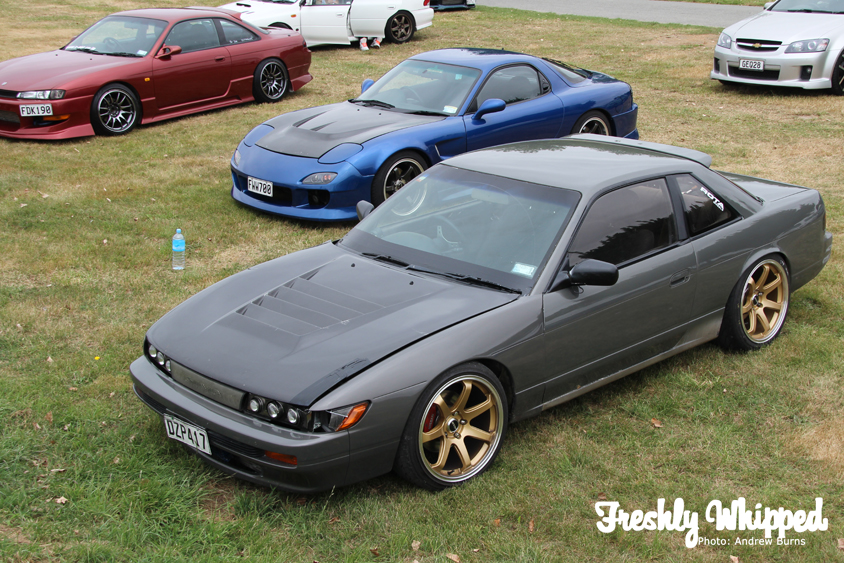 Choose your weapon 13, FD or 14?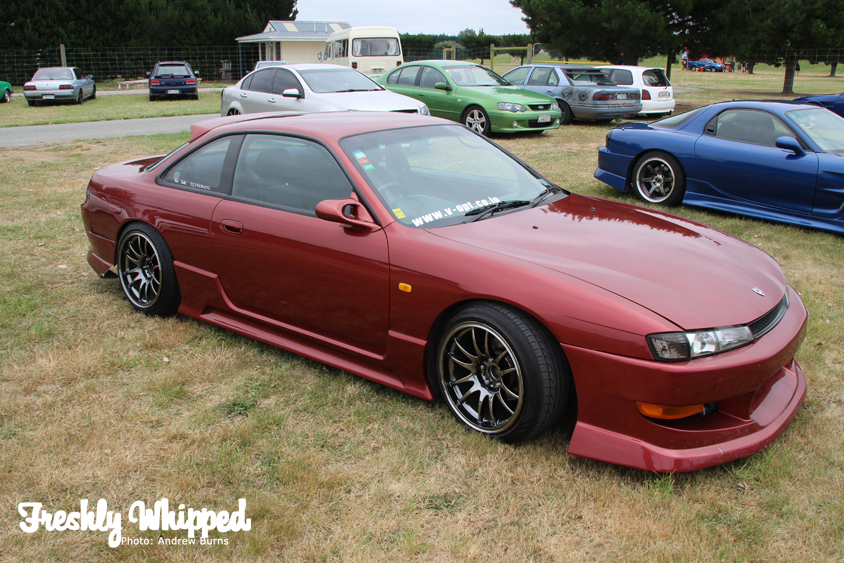 I'm a big fan of roof wings and .com's wheels. Very nice example of a street S14 facelift.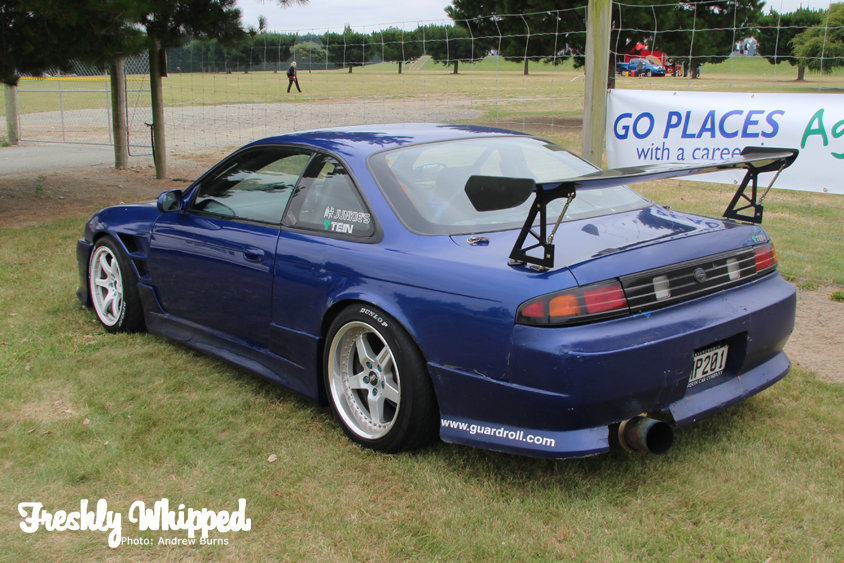 This Silvia looking like it would be more at home out on the track with its cage, wing and mismatched wheels.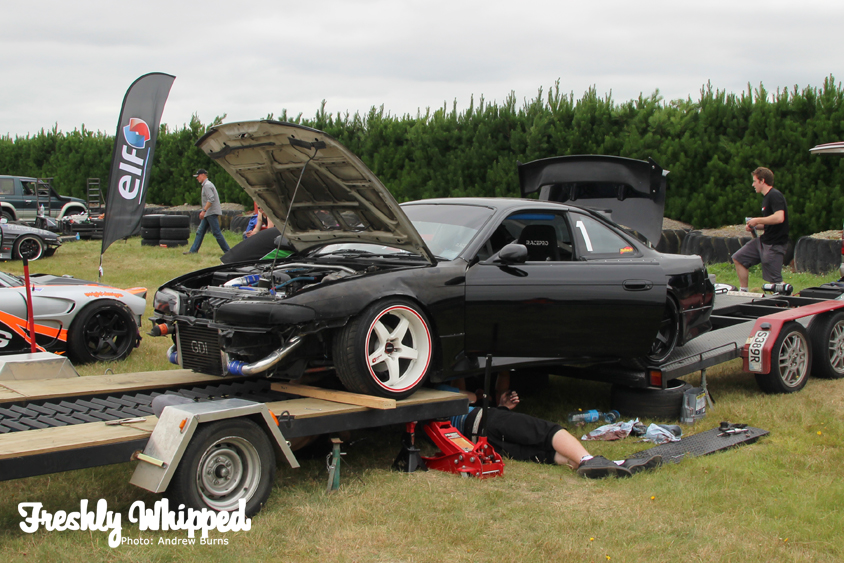 Only managing to get three practice laps in, Ollies' gearbox wasn't able to cope with the added horsepower but with a quick gearbox change Ollie was back out just in time for to qualify in 5th place.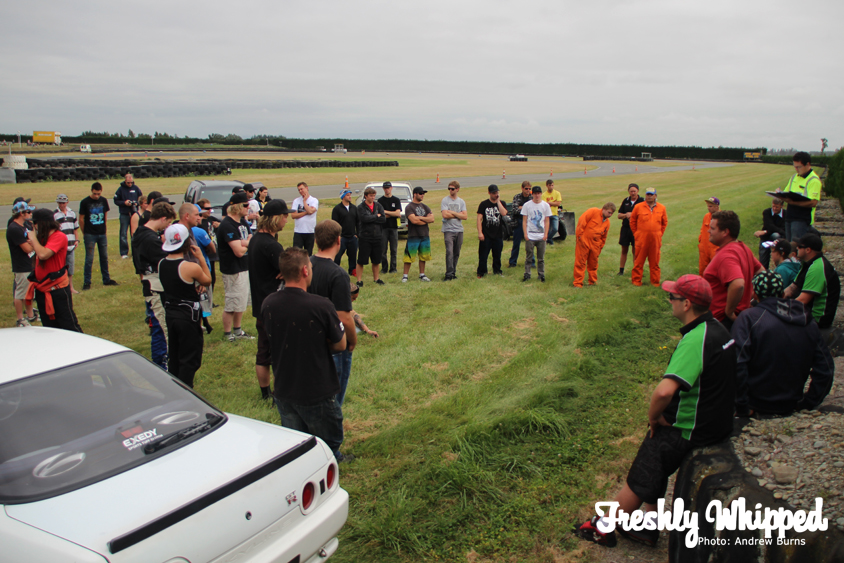 Drivers waiting patiently for drivers briefing, all of them keen to get out and burn some rubber.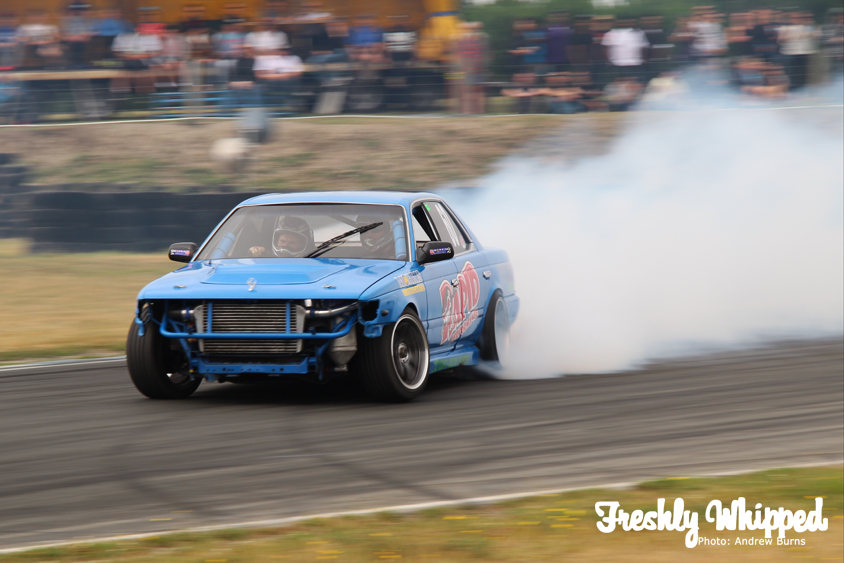 Lyndsay Lassen getting some good smoke with his new anti-lag tune, thanks to Rueban and team at Rapid Performance.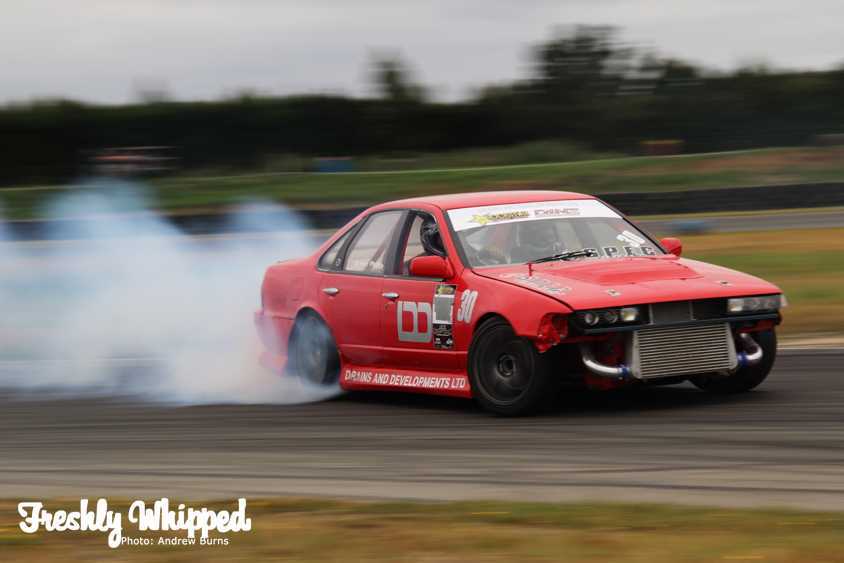 This mad Cefiro owned by Phillip Sutherland, not running the standard RB, but a heavily worked 2JZ.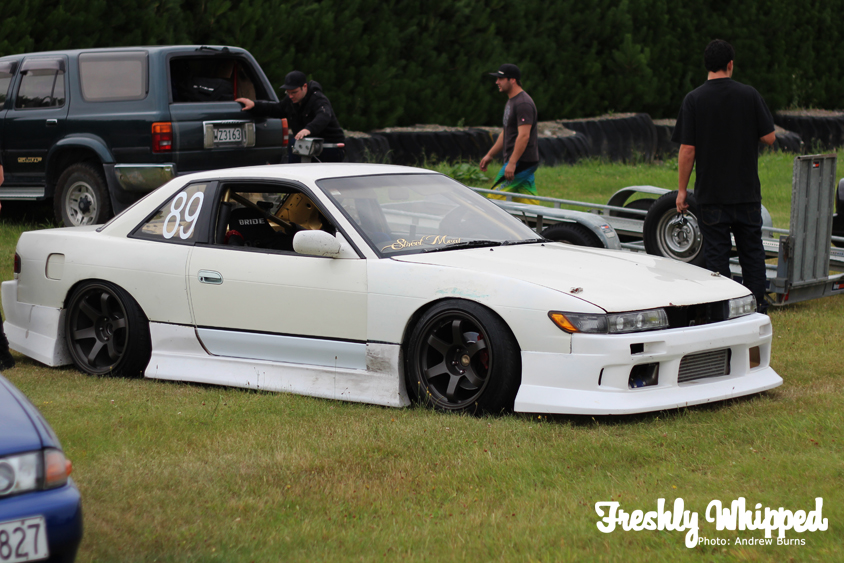 Not many CA18DETs in the field but Russel Majors s13 silvia has one and it gets thrown around with ease. GO THE CA!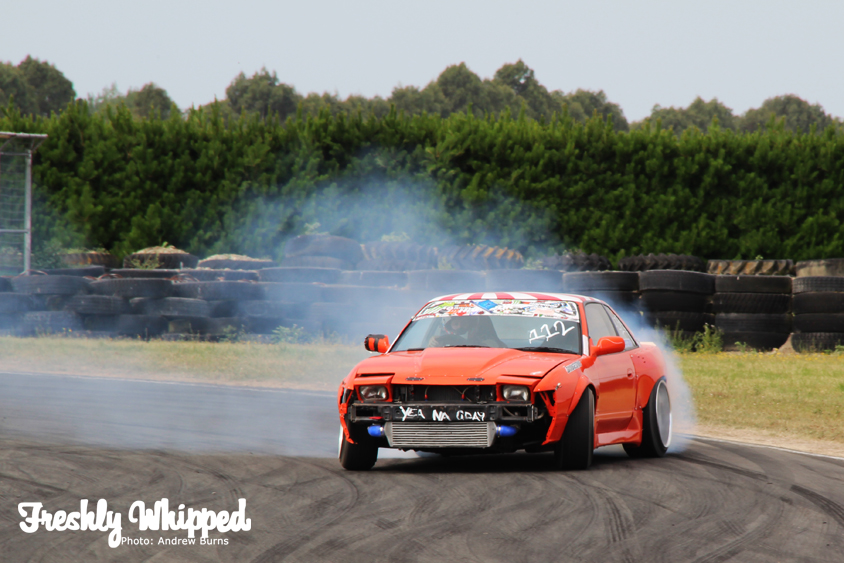 Alongside the Drift South Pro series they hold a street legal event. allowing you to run your street car with minimum requirements, a WOF, bolted down battery and approved fire extinguisher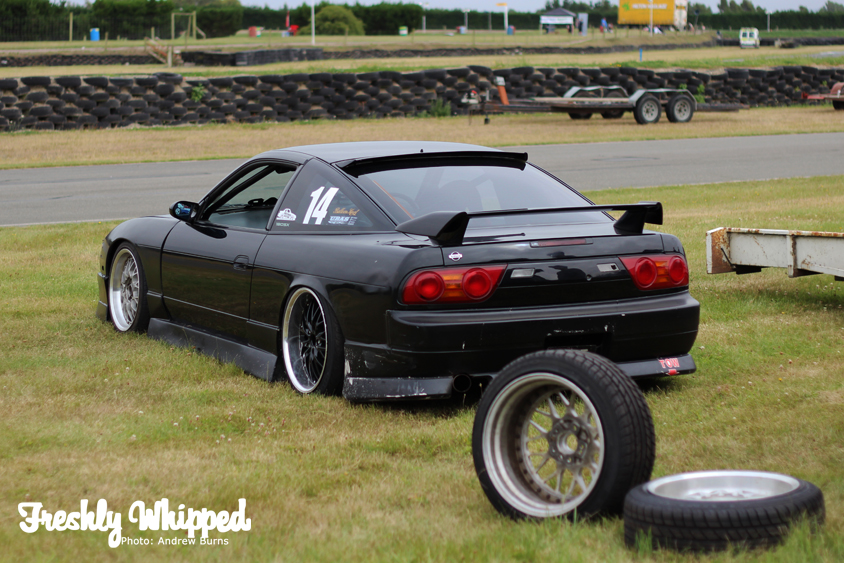 Mark O'hara's S13 looking ultra staunch. 180SX Type x is my personal favorate chassie of all time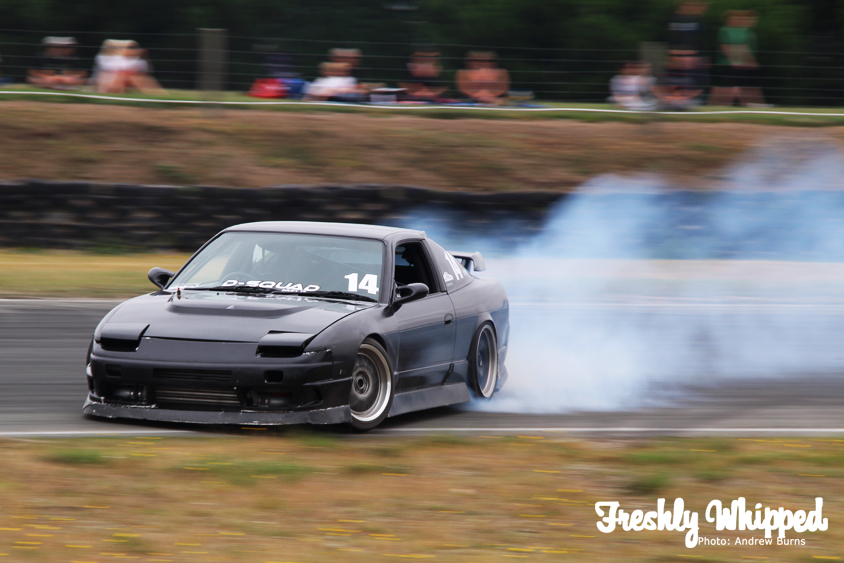 The perfect balance between form and function.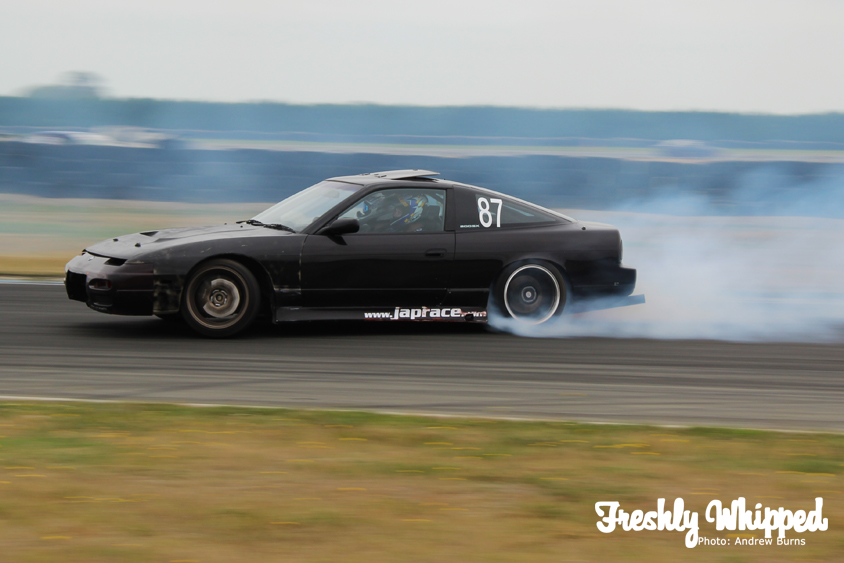 Michael Ryder throwing down some clean lines during practice.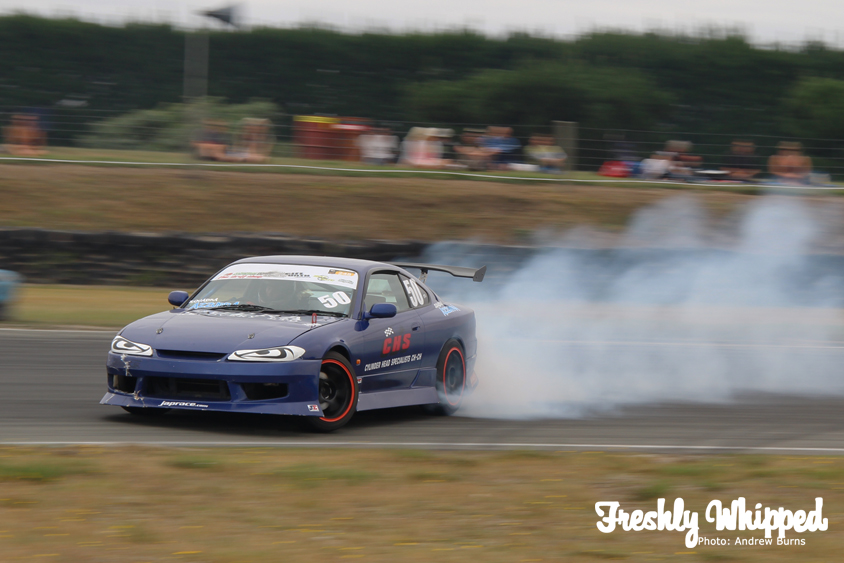 Mixing things up Brad Uran's ultra tidy s15 being powered by a SR22.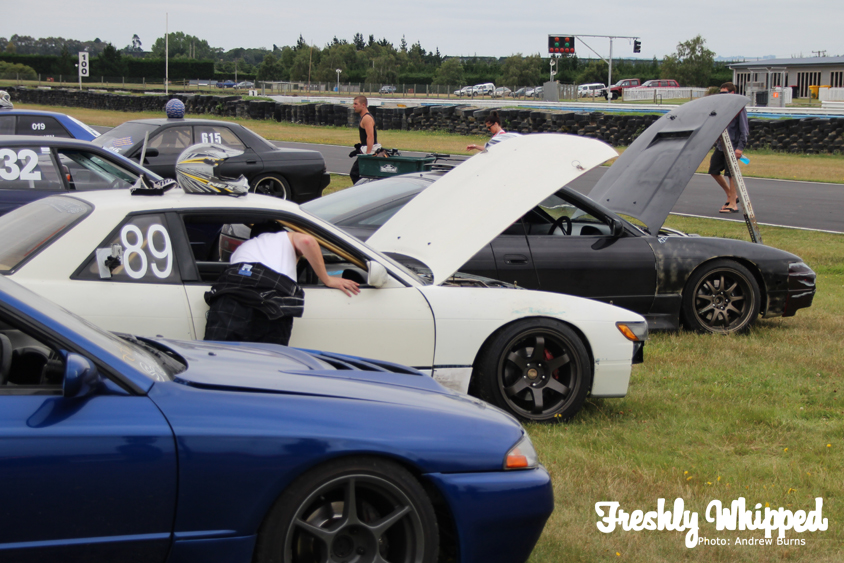 Buddy Club P1, Rota Grids and Works Emotion XD-9 – all class.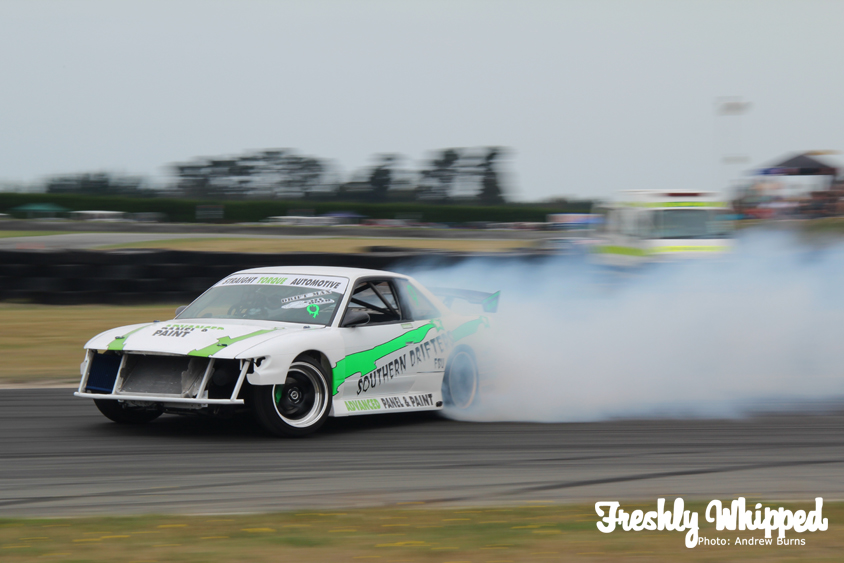 Car number 9 is piloted by Troy Forsythe a.k.a "family guy" as part of the Southern Drifters crew.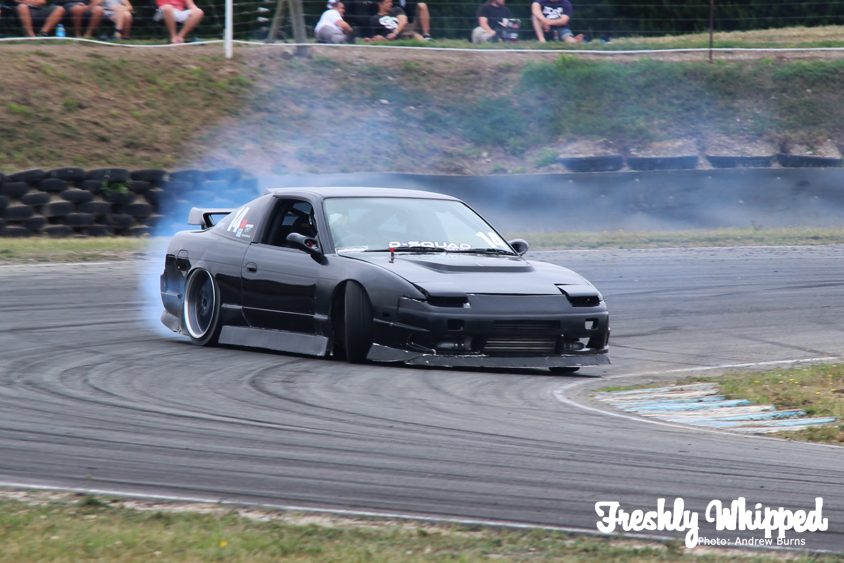 The Drift South scene is very grass roots, a lot of the drivers competing the whole season with little or no sponsors in most cases.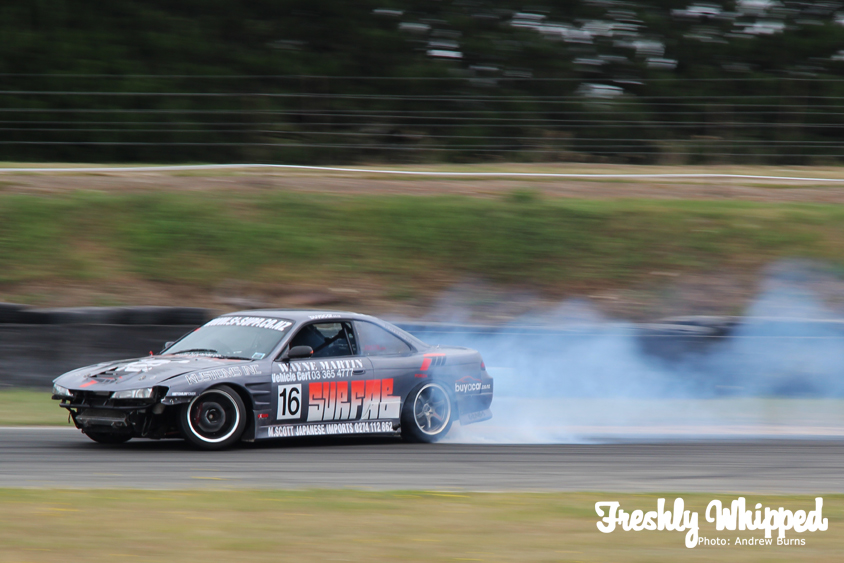 With all the rounds being held at Ruapuna except for this round, Level's is a nice change of scenery for both driver and spectator.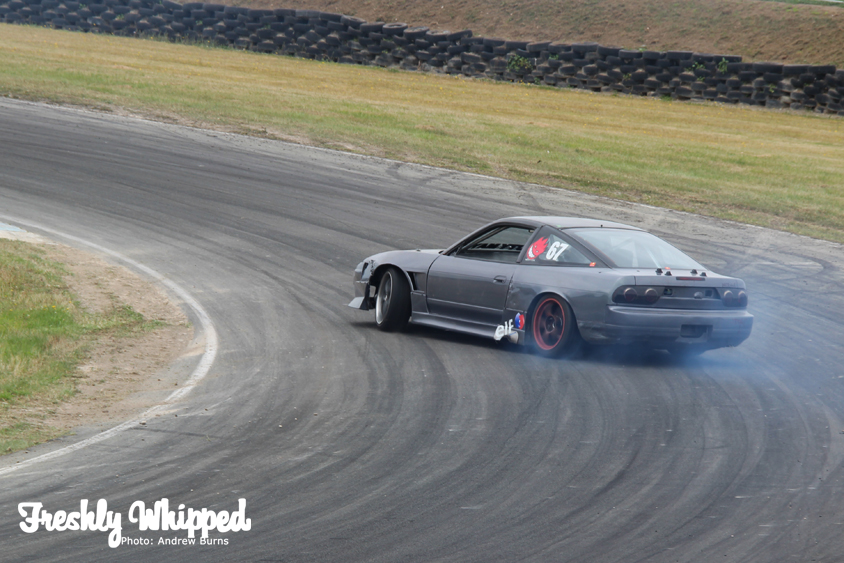 The entry is super fast, some cars hitting the 140 kph mark. Gabba Read pushing the S13 hard.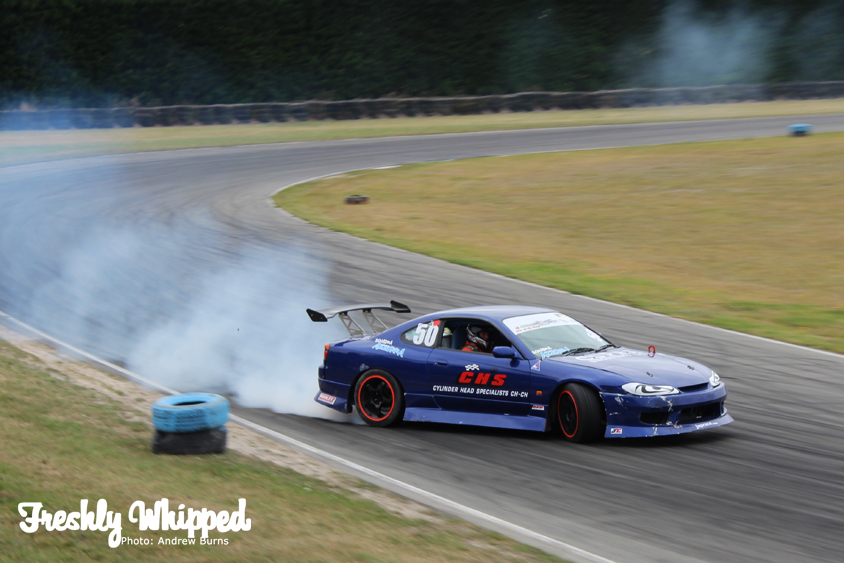 Get the entry wrong and your on catch up mode for the rest of the track. Brad showing us how to do it right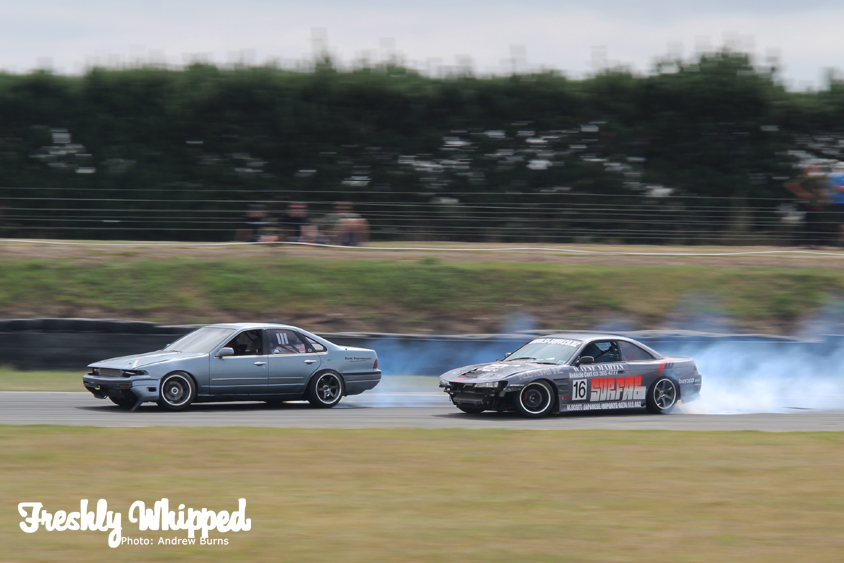 On to the battles. Mitchel Gibbs being hunted down by Chris Jackson. Both hard on the hand brake scrubbing speed.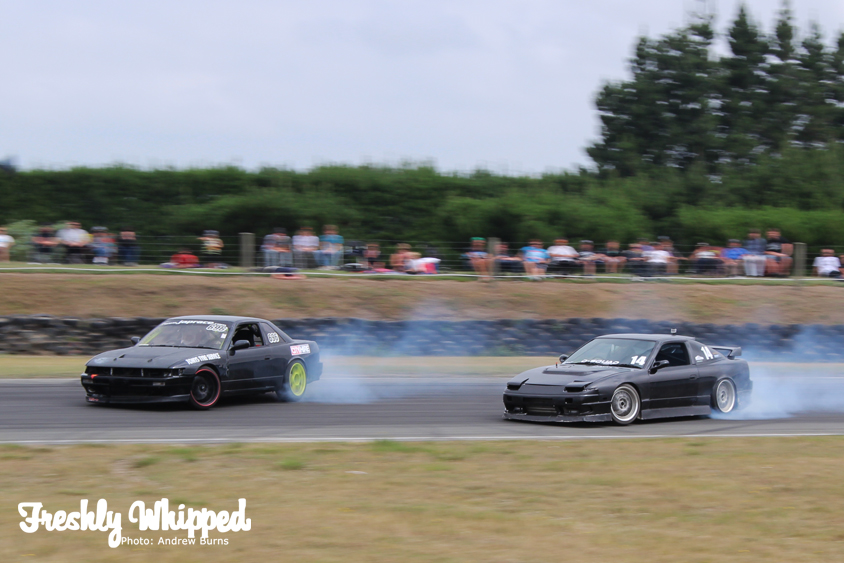 A bit of brotherly love.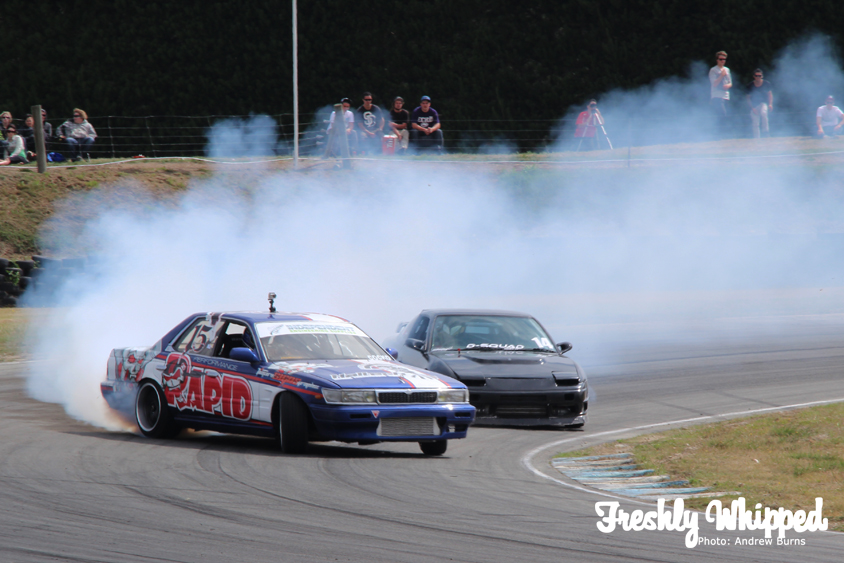 Blair Cochrane putting up a good battle against Mark.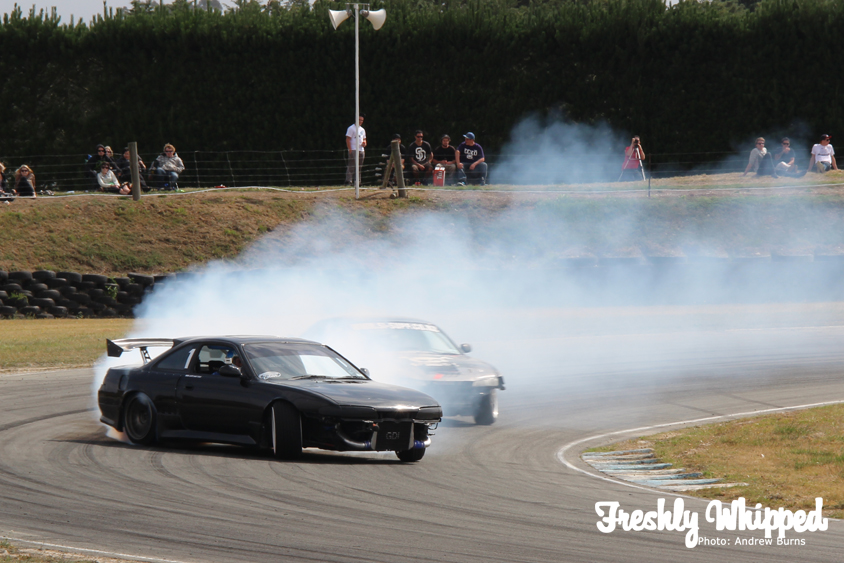 Oliver Biggs and Chris Jackson having to have a rebattle. The first two runs being too close to call.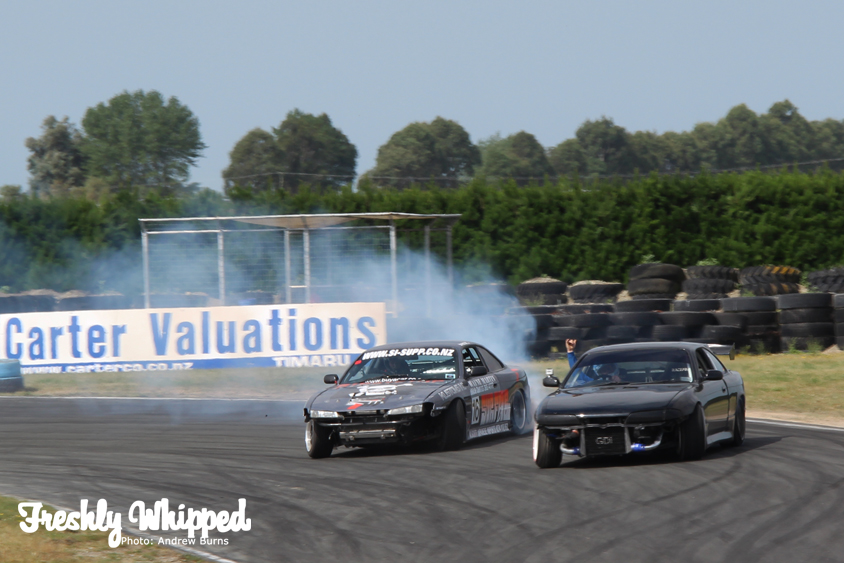 Chris taking the victory on the second run.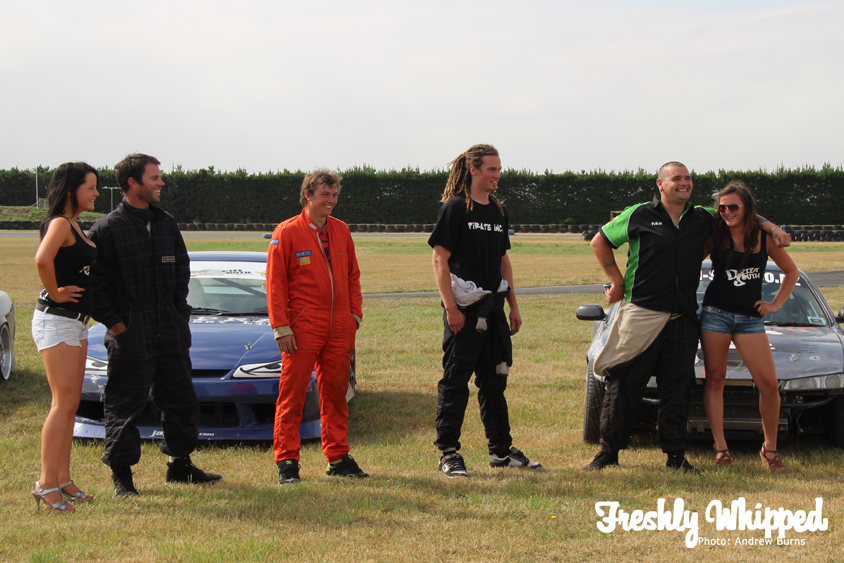 The winners podium – Mark OHara(3rd), Brad Uren (4th), Chris Jackson (2nd) and Troy Forsythe (1st).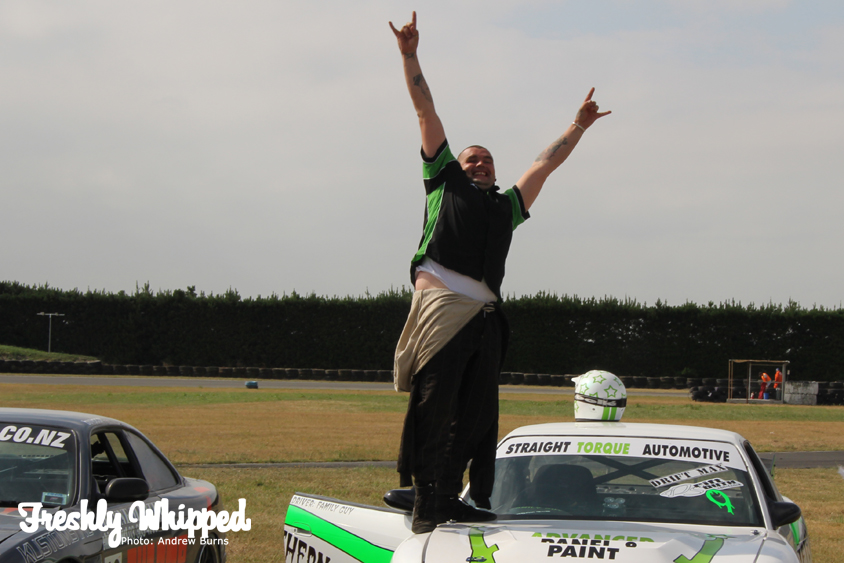 Troy taking his second win for the season.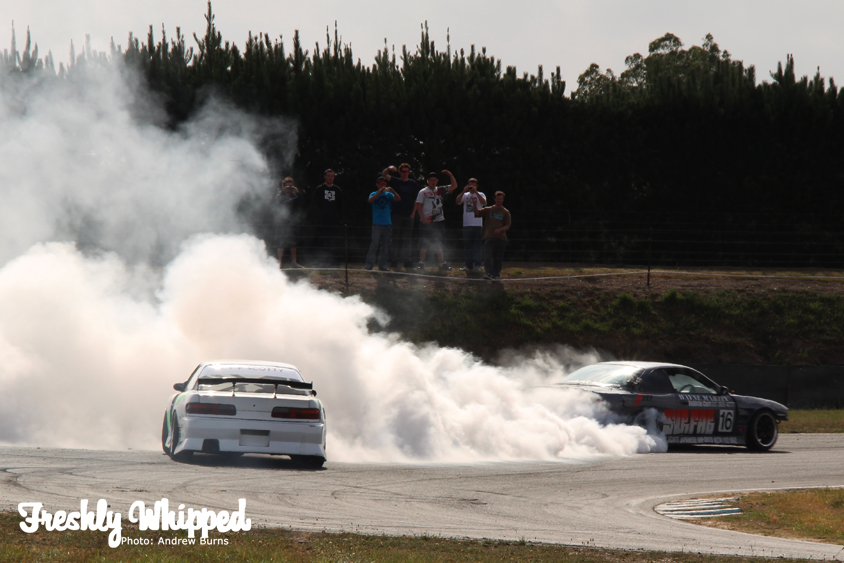 Jackson wasting no time in getting out and burning what he had left on his tires.
After round three here's the points table for the season:
1st Chris Jackson 74
2nd Brad Uren 69
3rd Mark OHara 64
4th Troy Forsythe 61
5th Oliver Biggs 48
6th Tom Hadlee 47
7th Anthony McQuoid 32
8th Simon Hunter 26
9th Robert Tomlins 25
10th Chris Doig 21
11th Shannon Hall 21
12th Dan Robinson 20
13th Phill Sutherland 16
14th Ben Luff 14
15th Johnny Lathan 15
16th James Hopman 14
17th Jarrod Reid 14
18th Joel Counter 14
19th Blair Cochrane 13
20th Dylan Rastrick 13
21st Leroy Pririni 13
22nd Shaun Alston 12
23rd Chris Protheroe 11
24th Clinton Williams 11
25th Mitchel Gibbs 7
26th Russel Major 6
27th Scott Cunold 5
-Andrew
Cheers for this post Andrew! - Chris